Read More News
BookTrust to Share New Interactive Books with Families!
BookTrust, the UK's largest children's reading charity, has today announced the new books that will be shared with all babies across England, Wales and Northern Ireland from the autumn onwards, as part of its flagship Bookstart Baby programme.
Designed to encourage families to start reading with their children as early as possible, all families with babies receive a Bookstart Baby Bag in their first year that includes two age-appropriate books, finger puppets and a useful information sheet that explains the benefits of sharing stories and rhymes with their babies.

BookTrust research shows that 85% of families are reading together with their children in the first year of life but that as children grow up, many families stop reading together1. The benefits of reading can be profound, affecting children's health, wellbeing, sleep and social development.The best books for sharing with babies provide high colour contrast to support visual development, are interactive with tabs, flaps and mirrors which can encourage sensory and fine motor skills, and have good rhyme, rhythm and repetition to boost early speech patterns.


For the first time in England, the views of families have informed the selection of the Bookstart Baby books. Across England, Wales and Northern Ireland, books are selected by a knowledgeable selection panel which brings together Bookstart Coordinators, librarians, early years workers and children's centre staff. The selection process focuses on books that contain simple, accessible text to appeal to all families, even those who do not see themselves as readers or may not be confident sharing books with their babies.

Diana Gerald, Chief Executive of BookTrust said: "It's never too early to start sharing stories and reading together with children. Starting when they are babies is the best way to lay the foundations for a lifelong reading habit and mean all children can enjoy the life-changing benefits of reading. Having fantastic, bright, colourful and interactive books that appeal to all families, even those who don't see themselves as readers, is key to encouraging families on their reading journeys. Babies and families alike will enjoy the closeness and cosiness that comes with snuggling up together with these brilliant books. Focusing on the different colours and shapes in the books and rhyming together can be an engaging and multi-sensory experience for all babies that can kickstart a love of books."

Families in England and Northern Ireland will soon be able to enjoy Mirror Baby: Hello You! published by Campbell Books. With a sleek, modern design and striking black and white photographs they can interact with, the simple, rhyming text provides perfect stimulation for children. Families will also receive Can You Say It Too? Woof! Woof! illustrated by Sebastien Braun and published by Nosy Crow. With colourful, illustrated spreads and big, recessed flaps, this brilliantly engaging board book combines colour and activity, perfect for curious babies starting to make their first sounds and words.
Families in Wales will receive a copy of Mirror Baby: Hello You! and a bilingual version of Little Baby's Playtime, an interactive board book about different babies having different kinds of fun, written by Sally Symes, illustrated by Nick Sharratt and published by Dref Wen. With bright, high-contrast illustrations and cut-out holes, it invites readers to entertain their own little ones by simulating the nonstop motion of a baby's fun-filled day.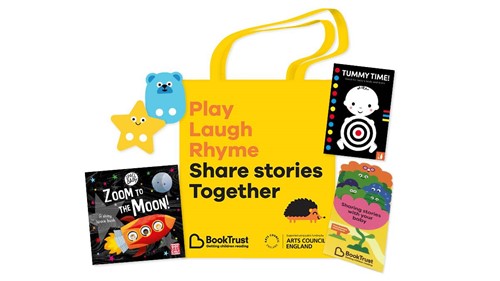 Families receive their packs thanks to funding from Arts Council England, the Welsh Government and Department of Education in Northern Ireland. BookTrust works in partnership with every local authority across England, Wales and Northern Ireland who determine how best to ensure the bags reach families in their local area. This could be via registrars, health visitors, librarians or other early years professionals. At a time of significant pressures on family budgets, the Bookstart Baby books can often be the first children's books many families will own
Hayley Down, Senior Commissioning Editor for Campbell Books added: "I am so delighted that Hello You! has been chosen for the Bookstart Baby bag! One of the first things babies recognise is faces and in Hello You! you'll find lots of smiling baby faces to look at. I hope families enjoy some quality bonding time while they snuggle up to read this simple rhyme. You could encourage your baby to try waving and cheering "Hooray!" along with the pictures to build their motor skills and develop an early love of reading. The fold-out mirror is perfect for engaging your baby's senses and gives them social stimulation. Let them gaze, grin and giggle at their own reflection to their heart's content. You can also use the fold-out mirror to prop the book up for tummy time. Hello You! will keep your baby entertained, while they build the muscles they'll need to roll over, sit up and crawl."

Kate Wilson, Managing Director for Nosy Crow said: "Can You Say It Too: Woof! Woof! is the ideal book for reading with your baby. Little hands love to lift the flaps, find where the animal is hiding, then join in with making the animal noises. Turn your baby's favourite game into a fun reading experience as you woof, miaow and tweet along with five different animal friends and enjoy sharing some quality time together with this lift-the-flap book."

Rhys Boore, Director for Dref Wen said: "Little Baby's Playtime is such a fun way to introduce your child to the pleasure of books. The fun board book is packed full of bold, colourful pages showing images of babies having fun. Whether riding in a sling or digging at the beach, the babies in this book never stop moving. It makes for hours of interactive fun for parents and babies, wiggling their fingers in the rounded leg holes, making it easy to share the joy of reading together."