Read More News
Baby weighing facilities launched in libraries
New self-weighing facilities for babies have been launched in several of Suffolk's libraries.
Scales suitable for weighing an infant up to one year old are now available in 15 libraries across the county.
For anyone attending there will be guidance on the use of the scales. There will also be information available on how to contact your local health visiting service if you have any questions about your infant's growth or development or wish to book an appointment at a child health clinic in your area. Library staff will be able to guide and signpost parents and carers to sources of support.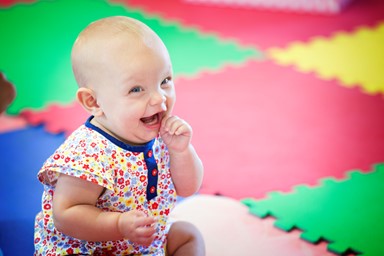 The 15 libraries will offer specific sessions throughout the week when the self-weigh will be available and may also be able to offer this at other times if asked.
The libraries with self-weighing scales are: Ipswich, Bury St Edmunds, Lowestoft, Gainsborough, Newmarket, Haverhill, Stowmarket, Beccles, Felixstowe, Sudbury, Woodbridge, Hadleigh, Chantry, Mildenhall and Brandon.
The full details of the sessions at each of these libraries can be found on the Suffolk Libraries website at www.suffolklibraries.co.uk/visit/in-the-library/baby-weighing
The library self-weigh facilities will add to the wide range of services already on offer to the parents of babies and young children including the regular Wordplay activities which include Baby Bounce and Tot Rock. Suffolk Libraries also runs a perinatal support service called Me, Myself and Baby and works closely with local children's centre staff.
Krystal Vittles, Deputy CEO of Suffolk Libraries, said:
"Baby self-weigh is a wonderful addition to our rich offer for families and we're delighted to be working in partnership with colleagues from Suffolk County Council on this. It is really important that parents and carers have access to services to suit their busy lives and so by offering baby self-weigh we're creating more choice for the families of Suffolk. We're hoping even more families will now visit us and find something to delight and inspire them when they step through our doors."
Cllr James Reeder, Suffolk County Council Cabinet Member for Children and Young People's Services, said:
"We are always looking for ways to make our services more accessible. Working in partnership with our library partners, we are creating more opportunities in the heart of communities for families to self-weigh babies. Libraries are environments which support early literacy, family activity, perinatal support and offer information, advice, and guidance to all families."