Read More News
Children's Superstars; Andy and the Odd Socks Release New Album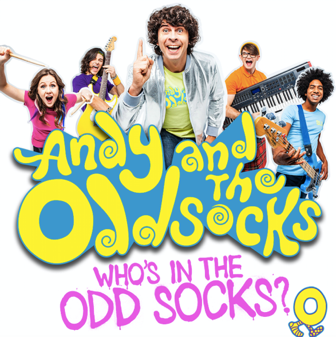 Following rave reviews from their latest song release, 'Save all the Animals' and after much anticipation, the UK's biggest children's band, Andy and the Odd Socks have today (22nd May 2020) released their second studio album, 'Who's In the Odd Socks?'.
The long-awaited album will include a total of 17 songs for fans to enjoy, featuring original tracks from the bands widely popular TV Show, Andy and the Band which debuted on BBC iPlayer earlier this year as well as firm favourites; 'Choose Respect and Change', plus brand new songs including 'Rinky Dinky Doo' (released ahead of album launch on 15th May) and the title track 'Who's In The Odd Socks?' which showcases the true ethos of Andy and the Odd Socks, a rallying call for kids to join the Odd Socks, to forget their troubles and have fun whilst the music video pays homage to one of the greatest Seattle bands, songs and music videos in music history – although this version definitely smells a bit more like Odd Socks!
In celebration of the release and offering a taster of what to expect from the album, all five members will join forces for an almighty virtual launch party, live from the bands Facebook page at 4pm on 22nd May. Be sure to wear your wackiest outfits, don your odd socks and get ready to rock out!
Ever fancied a Happy Birthday shout out from your favourite band? For all those who may have missed a birthday party due to lockdown or to those wanting to celebrate an upcoming birthday, for a limited time only Andy and the Odd Socks will also be offering a free downloadable song, titled Happy Birthday, that can be personalised to make it extra special. Available for all album pre-orders through their official store!
Andy Day said: "It seems like forever ago that we started working on this album. From me and Blu, sat in the hairdressers throwing song lyrics back and forth, to Moxy banging out a tune with her spanners on my bike. And finally, here we are with our second studio album. A dream come true! While 'Who's in the Odd Socks?' is all about dancing and rocking out, the songs also hold such an important message and we couldn't be more excited for you to hear them! We can't wait to celebrate with everyone at our virtual launch party and can guarantee it will be a party to remember! So bring your odd socks and we'll see you on Facebook!"
Billed as the modern-day Monkees, Andy and the Odd Socks are woven into a colourful world of characters – which sees CBeebies superstar Andy Day rocking out as the bands frontman; Rio from Planet Rock on guitar; mega Moxy on drums; cool Blu on bass and crazy Cousin Mac on the keys – who together are wildly passionate about embracing individuality, encouraging fun and creating music for everyone to sing along and rock out to.
Who's In the Odd Socks? will be available to stream, download, and on CD from today, 22nd May 2020.
For further information or to order the album or for an additional personalised song, please visit andyandtheoddsocks.com