Read More News
A Natural Education - Northampton High School
By Northampton High School 
Children are born with a fantastic inquisitive nature, a need to play, to learn and grow. When these eager explorers embark on their more formal learning adventures, whether that be in a traditional school environment, through home schooling or through other means, the importance of everything that accompanies their core education should never be underestimated.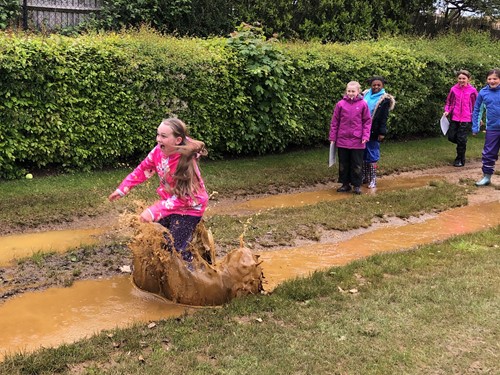 Now that summer has arrived and brought the glorious sunshine with it, it is fantastic to see Forest School experiences taking on new heights with children everywhere; and not just in tree climbing! Planting vegetables, finding mini beasts, creating obstacle courses to name but a few activities that combine Science, Art, DT and PE with general world exploration.
Here at Northampton High School, our pupils have been building dens in our very own Forest School, located in the wild area on our 27-acre site. During this particular magical and fun afternoon, the children demonstrated fantastic discussion and evaluation skills. "Let's try this instead," followed by, "I think the crossing over of bamboos might make it stronger," were just two comments that could be heard from one group. In activities such as this, what really matters, and indeed shines through, is the reality that was observed on this day; children working effectively as a team, sharing ideas, trying new things together, learning about the relative strengths of different structures, taking on different roles and using their creativity. Above all, watching the children truly enjoying their learning and demonstrating a huge respect and indeed knowledge for our natural world is heart-warming.
The recent Mental Health Awareness week also encompassed the theme of getting out into nature. The words of The Duchess of Cambridge remind us that 'a child's mental health is just as important as their physical health and deserves the same amount of support'. And it is in the wild outdoors that children often find the opportunities to make the most dynamic risk assessments, to physically challenge themselves, experience exhilaration and be free; all things that are fantastic for well-being.
So, as we move forward towards a new normal, and as our next cohort gear up to start their schooling adventures, let us walk together with our children, steadily and strongly, feel confident that our children are learning in all they do, in their formal education and beyond. Above all, remember to be kind to yourself and to each other, value the qualities that each child and adult brings, and celebrate every positive moment in all aspects of life.
Have a fantastic summer and enjoy the glorious sunshine!
About Northamptonshire High School
Northampton High School offer an excellent, bespoke and inspiring curriculum and so much more. They understand the importance of extracurricular activities, outstanding pastoral care and varied socialisation in school, and encourage all pupils to embrace and benefit from the vast and varied range of experiences on offer. Craft, nature, construction and singing clubs to name a few, all require agile communication, steady cooperation, and a real sense of compromise. Important life skills for all children to master.
Northampton High School welcomes girls from age 2 to 18 years. Find out more here