Insert a Bookmark into the Toddle About Magazine
Just supply artwork - print is included!
 Every issue we give one business (per magazine region) the opportunity to put a bookmark in every single copy of the next Toddle About magazine.
We insert the bookmark inside the front cover of every magazine, so it will be the first thing parents see when they open the magazine to read it. Parents will also use it to mark their place when they stop reading - so, when they come back to the magazine, it is once again the first thing they see on opening it.
The bookmark is useful for parents, and it's very effective advertising too, as it is seen and handled repeatedly by parents.
Lots of people hold on to bookmarks too, to use when reading other things - so they hang around many households long after the magazine has run its course, thereby increasing the impact for you.
How it works
This is a mock up of how it would look (but with your advertising on the bookmark, of course!):​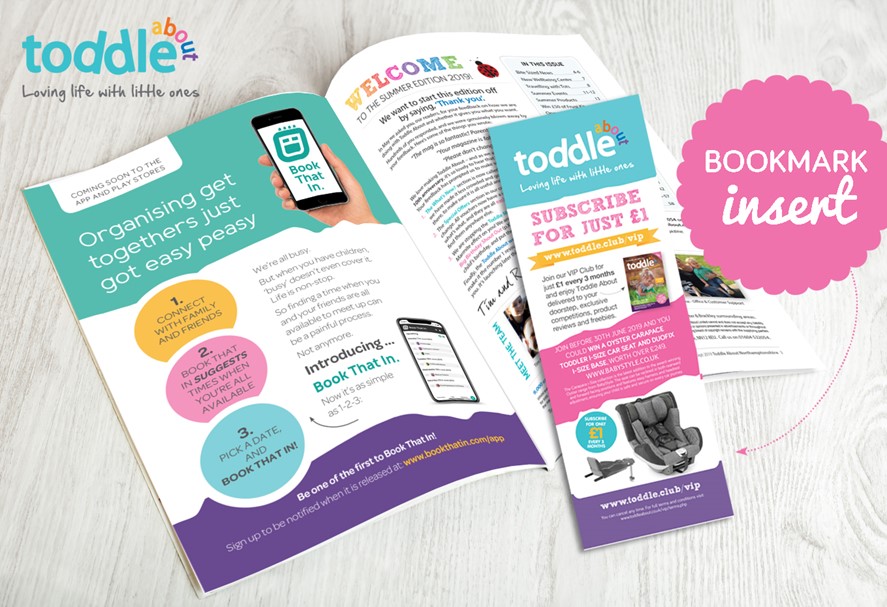 The bookmarks are roughly the size of half an A5 page (100mm wide x 205mm tall, to be precise), and printed full colour on nice, thick paper stock.
You can print your own design on both sides of the bookmark, so it'll be all yours. Only 1 business will get to advertise on the bookmark in each region - we want to make sure that whichever way they look at it, they'll have eyes for only you.
You provide the artwork* and we'll handle the rest - printing and inserting the bookmark into the magazines.
*We can help with design if necessary - just ask for a quote.
Prices
We charge £99 + VAT per thousand bookmarks, or a discounted rate if you go in all magazines in a particular region as follows:
** Remember: There is only space for ONE business to insert a bookmark in each region every issue. **
MK & Bedford (9,000 bookmarks): £750 + VAT
Oxfordshire (10,000 bookmarks): £999 + VAT
South Bucks (9,000 bookmarks): £750 + VAT
South Warwickshire (9,000 bookmarks): £750 + VAT
Suffolk (9,000 bookmarks): £750 + VAT
West Northamptonshire (9,000 bookmarks): £750 + VAT
Remember, this price includes printing the bookmarks.
If you're interested, please contact us here or call on 01604 532532.