Flyer and Bookmark Inserts
Post your flyers directly to local Mums and Dads
Toddle About subscribers are all mums and dads with children aged 0-5 years, so inserting your flyer in the Toddle About magazine when we post it to our subscribers is a super-targeted way to reach this niche audience.
You have 2 options when it comes to inserting flyers: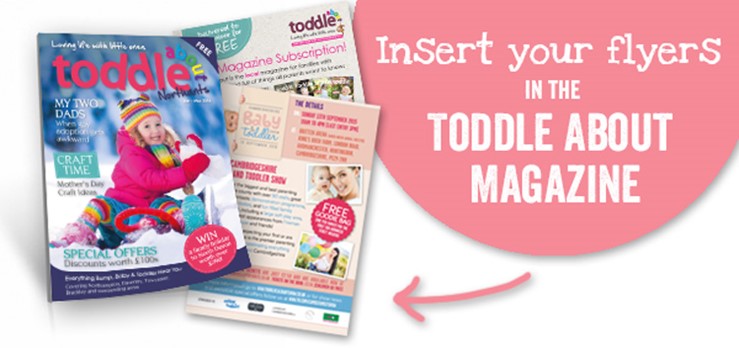 Option 1: 
Insert your flyer in the magazines that we POST OUT to subscribers
We will include your flyers with the magazines that we post out to subscribers. So they won't go in all the magazines, which makes it the cheaper option - but still very effective. That's because we're posting them - so they're delivered to parents' doors, and you know exactly when the inserts will arrive. 
It's a hyper-targeted and super effective way to get your flyers in front of hundreds of parents. 
Cost: from £25 (You provide the flyers)
Spaces are very limited.
Option 2:
Insert a Bookmark in EVERY SINGLE copy of the magazine
Every issue we give just one business (per magazine region) the opportunity to put a flyer or bookmark in every single copy of the Toddle About magazine - both posted to subscribers and distributed by our hundreds of targeted distribution points.
We will print the bookmark and insert it into the front cover of every magazine in your chosen region, meaning your flyer will practically jump out of the magazine when 9,000 parents open it up. They also use it to mark their place as they read... so it gets seen time and again.
It's a VERY effective way of reaching parents.
You provide the artwork (100mm W x 205mm H) and we'll handle the rest - printing and inserting the flyer/bookmark into the magazines. 
Cost: from £750 (This price includes printing the flyers/bookmarks.)