Toddle About Inserts
Post your flyers directly to local Mums and Dads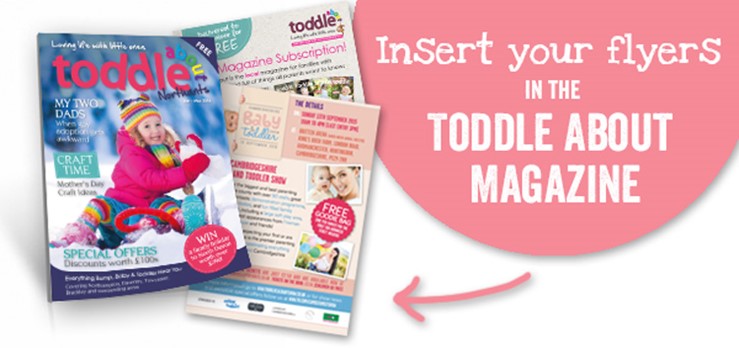 Toddle About subscribers are all mums and dads with children aged 0-5 years, so inserting your flyer in the Toddle About magazine when we post it to our subscribers is a super-targeted way to reach this niche audience.


Your Flyers will arrive with parents on Tuesday 4th January 2022.

But you will need to act quickly if you are interested – we only have a handful of slots available and we need to receive your flyers by Monday 20th December 2021.

Here are the regions you can send your flyers to and the investment required – slots will go on a 1st come, 1st served basis. When they're gone, they're gone!

Milton Keynes & Bucks: £35 to insert 300 flyers
Northamptonshire: £45 to insert 450 flyers
Oxfordshire: £35 to insert 300 flyers
Warwickshire: £35 to insert 300 flyers
Suffolk: £35 to insert 300 flyers

Prices do not include cost of printing flyers - you can provide finished flyers or we can arrange print for you.
Flyers must be no bigger than a single sheet of A5 and weigh no more than 5g each (paper stock of up to 135gsm is perfect).
* Please read all Terms and Conditions here before booking

If you have any questions, please contact us on 01327 830171 or email us via our contact form.


How Inserts Work
It's pretty simple! You send us your flyers, and we insert them into the Toddle About magazine.

We then post the magazines out via Royal Mail to all our subscribers.

You can choose to include your flyers in the Toddle About magazines for MK/Bucks, Northants, Oxfordshire, Warwickshire and/or Suffolk.



Why Flyer Inserts are worth considering
Inserting flyers with the Toddle About magazine is a very powerful way of marketing your business:


It puts your flyers in front of parents with children aged 0 - 5 years -

 

a very niche audience

 

- increasing your ROI.
It's

 

more targeted than door-dropping

 

your flyers, so it prevents wastage.
It

 

saves you time

 

- just send us your flyers and we do the rest. No more driving round to houses or venues to deliver them yourself.
It

 

saves you money. If you were to post the flyers yourself, it would cost you 5 - 6 times as much in stamps alone.
It works! The flyers we insert in the magazine are the first thing our readers see when they unwrap their lovely new magazine so

 

they really grab the attention of our readers.

 

And as they come with the magazine, parents know the flyers will be relevant to them, so they give your flyer the attention it deserves.

Contact Us to Book Today on 01327 830171 or advertise@toddleabout.co.uk