Read More Reviews
Review: Once Upon a Unicorn Horn Book, worth £12.99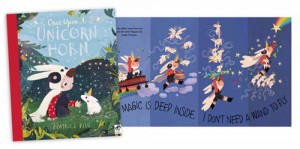 Review written by Toddle About VIP Club member, Nicola Martin.
When I showed my two daughter's (ages 6 and 3) the new book we had to read they were very excited. Unicorns are a firm favourite in our house so I had high hopes for this and I was right, they were transfixed with the story from the start and didn't ask any questions (unlike some books where they don't fully understand the story). They were really pleased with the happy ending of the story and wanted to read it again straight away. I personally thought that some of the story was a bit basic and not as much detail as there could have potentially been, however, my girls loved it and both myself and my husband have read it to them both a few more occasions since then.
The illustrations throughout are lovely and suit the style of story and there is enough going on over the pages to keep little eyes looking over them, looking for details and clues as to what might happen next. I think this is now a regular favourite to enjoy at bedtime.
Buy from Amazon