Read More Reviews
Review of Noah's Ark at Ipswich Waterfront
Review written by Pia Howe, Toddle About Suffolk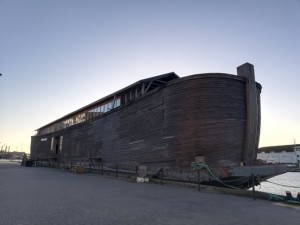 Noah's Ark at Orwell Quay This is your chance to see the World's only floating exhibition of Bible Stories and to look inside this truly magnificent Ark, which is currently at Orwell Quay on Ipswich Waterfront. This is its first visit to the UK and will remain here until the end of January 2020. Many legendary bible stories are brought to live on Noah's Ark and the attention to detail and wood craft is simply stunning. The Ark is enormous: 70 meters long, 10 meters wide and 13 meters high (so you can't really miss it!) - a half sized replica of Noah's original boat. Once we entered the Ark, we made our way to the upper level. We visited during the late afternoon and watching the sunset and the views over Ipswich Waterfront were absolutely
breathtaking. There is also a café and a little play facility with swings, ropes and nets for little ones to climb on.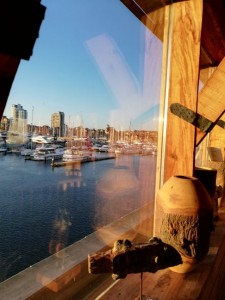 Views over Ipswich Waterfront The children loved exploring the 4 different levels of the Ark and followed the quiz trail around answering biblical story questions, from Adam & Eve, Moses, David & Goliath to Noah and many more. There is so much to discover & explore from wooden sculptures, to small pathways, hidden spaces, abundance of animals and the Tree of Life that grows 12 meters through the ship, it even kept our 3-year-old entertained throughout.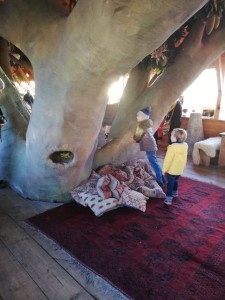 The Tree of Life Aad Peters, a Theatre and TV Producer, bought the Ark in October 2010 and rebuilt the inside to create this story-telling museum. It was important to Aad that a museum like this existed to bring to life the stories from the bible because if you want to get to know other cultures you must get to know your own culture first.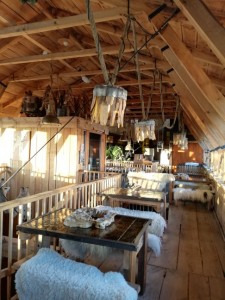 Cafe It took 6 months and more than 50 craftsmen to create the interior. A truly magical Bible journey and a fantastic day out for the whole family we can highly recommend.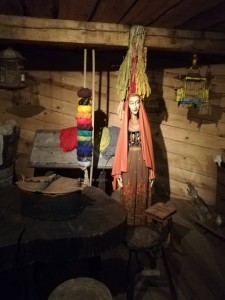 Wooden Sculptures Noah's Ark will be at Orwell Quay until the end of January 2020, open Monday to Sunday from 10am until 6pm. You can buy tickets at the entrance or book your group online at www.arkmuseum.eu