Read More Reviews
Review: MiniDream Baby Musical Safari Play Mat, worth £37.50
Review by VIP Club Member Leah Berry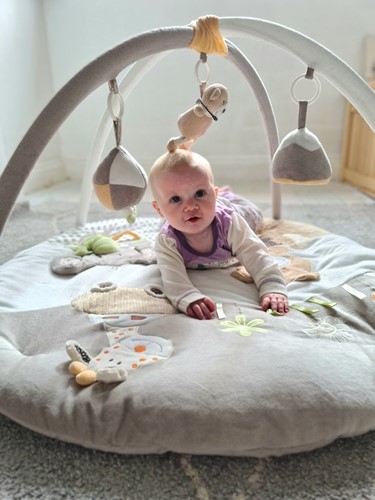 We were very happy to hear that we had been chosen to do a review of the MiniDream Baby Musical Safari Play Mat. It is a must have for little ones, the mat is a good size and is comfortable enough for babies to lay still or move around on, the arches are stable and allow for babies to lean against them when exploring.
My 6 month old was able to roll whilst comfortably staying on the mat, there are hanging toys and the mat has textures designed to encourage sensory play, I did find that there was space for more hanging toys but my little one was happy with the variety available. The play mat is in natural tones and colours and fits happily into the home, it has a lovely soft velvety surface and is well padded making it a very comfortable area for babies to lay or sit, my daughter spent ages just exploring the textures with her hands and feet whilst laying on the play mat.
The hanging toys on the play mat feature a baby safe mirror, raffle, musical pull toy and squeaky Teddy, it encourages sensory play and is a great feature for babies of different ages- younger babies will enjoy staring up to the mirror and listening to the music whilst slightly older babies will be trying to reach and pull the toys, my daughter was able to pull the musical toy and this kept her busy for quite some time!
Overall I would say the mini dream musical safari play mat is a lovely play mat for babies, I was impressed with the look of it and how sturdy it is, it would make a lovely play mat for newborns all the way until your baby is crawling.
I would rate the product as a 4/5 as it could do with a bit for musical variety and a few more hanging toys but overall a lovely product.
Available to buy from Small Smart.