Read More Reviews
REVIEW: ChewyMoon Snacks, £4.99 per box

Review written by Toddle About VIP Club member, Emma Knight. We were delighted to be asked to review the Chewy Moon Snack Box. As a mum, I am always looking for new ways to introduce healthy snacks to my children who, like many others, are rather fussy and creatures of habit, especially when it comes to eating! The box arrived and we were very excited to see what wonders it contained. We firstly noted how bright the packaging was and the children both found the picture of a pug in a hoodie on the front highly amusing!
Inside the box were five different packaged snacks, each with their own individual animal in clothing picture. There was a great mix of both sweet and savoury snacks which was fantastic for me to be able to get the children to try a wide variety in one hit.  Also inside the box was a magazine, and some information cards regarding different animals. There was also some "Top Trumps" style cards inside featuring the company characters. We had lots of fun playing this game and finding out who was the smartest, fastest, strongest etc. My daughter, who is 5, has retained these cards and loves to inform me who's who now, so its wonderful that these mascots are so easy for the children to take to heart.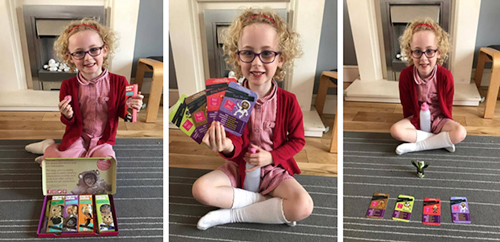 Back to the snacks though! Our box contained Wonky Wobbles, Safari Snack, Jack & Berry, Freaky Fruits and Smoothie bites. All of the nutritional information is listed on the back of each individual box along with the ingredients, so there is no nasty surprises. The Jack & Berry was by far the snack item that my children loved and that was the first thing to disappear without trace! Unfortunately for me, this box was not received as well by my children as I had hoped. However we discovered that, although they didn't like the whole of each box, there were bits and bobs out of each one that have now made their way into our snack cupboard, which is great! Ill certainly chalk that up as a win! And I was able finish what they didn't, so healthy choices for me too! On the whole, I think it is a wonderful product with lots of engaging material inside along with some truly lovely healthy snacks. Would recommend to all parents of fussy eaters out there, even to try and open up a fun way to try new foods.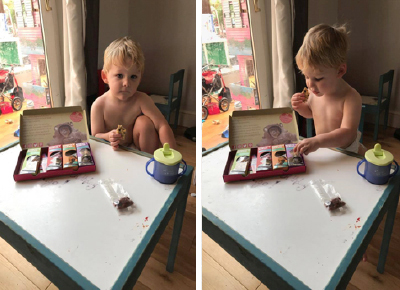 Purchase from: https://chewymoon.com/