Read More Reviews
Review: Infantino Soothing Light and Projector worth £19.99
Review by VIP Club Member Samantha Morine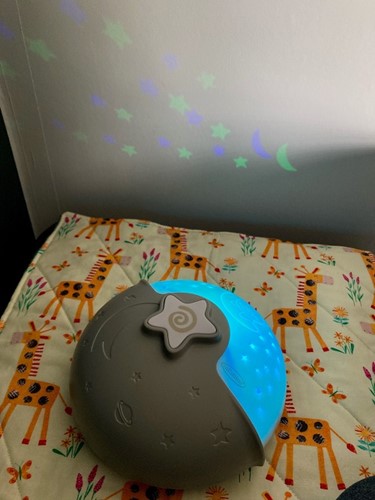 We tried the Infantino Soothing Light and Projector with my 6 month old who we have just moved to her own room. It retails for just under £20 from stores like Argos and Amazon. It comes with two straps to hook to the crib and requires 3xAA batteries. I like how it is multi-use as it offers different functions as babies get older, simply by rotating the outer shell. The back also has two switches – one to select music or night settings and another for two volume levels. The highest setting was not too loud compared to some other baby toys.
The first function is as a crib night light when switched to the teddy bear on the front and the night setting on the back. It attaches to the crib easily with two straps that are easily adjustable yet sturdy. The blue LED light glows automatically when it detects cries or sounds and then shuts off after 10 minutes. This is helpful to provide light when settling a baby when they wake but was too bright for us to use as woke ours up even more, possibly due to the negative effect blue light has on sleep. I decided to instead attach it to the bottom of the crib so the light wasn't shining directly in and there was no risk of it falling in.
The second function is as a projector when switched to the starts on the front. It can be used either by attaching to the crib or set on a bedside table. It projects stars and moons which change colours which was very calming. I like that there is an option to display just the lights or to also have sounds play with it. There are six different songs/ white noise sounds to choose from. However, you have to click through them each time instead of being able to select a favourite to keep using.
The third function is as a tabletop lamp when switched back to the teddy bear on the front. I like this function as turns on by just touching the big button and then turns itself off after 10 minutes. Again, it was too bright for us in a very dark room so we put a muslin over it to soften the brightness.
Overall it seems like a well-made product that offers multiple functions as and when you need them. It would be great if there was an additional function to adjust the brightness.