Read More Reviews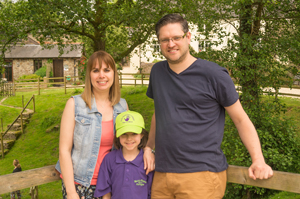 Written by Kym, Daniel and Sydnee – May 2018.
We have been visiting North Hayne Farm since our daughter was 18 months old and she is now 8½. We are on our 12th visit with 13 & 14 already booked for later this year and next year. What can I say about this amazing place that makes it stand out from the rest. The main thing is most definitely the team. Cheryl and Roger go above and beyond to make sure your stay is the best it can be. They are hardworking and dedicated and such lovely people. This showed from our very first visit and we knew that North Hayne Farm was somewhere very special that we would continue to visit for a very long time. There hasn't been a year gone by since we found the farm that we haven't visited. We have done weekends, short breaks and full weeks and have visited at all different times of the year. Spring, Summer, Bonfire weekend, Christmas and all have been amazing.
Cheryl and Roger have seen our little girl grow up as they have seen her year by year and they have been part of that process. She calls the farm her second home and that is exactly what it feels like every time we visit. We have also seen the farm develop over the years and how much work Cheryl, Roger and the team have put into it. They never rest and are always striving to make things better. We always think it can't get any better until something else is added. To name but a few, there is:
Daily animal feeding.
Getting up close and personal with the animals (handling, feeding and walking them).
Safe, secure surroundings.
Autism friendly – loads of support available.
Donkey rides every morning.
Bug hotel.
Trails that are tailor made for different ages that follow EYFS and Key Stages.
Forest school sessions.
Farm hands club (be a farmer for a morning!)
Bat walks
Outdoor play areas.
Indoor play barn
Games
Room
Hot tub for every cottage – great for us when the children have gone to bed.
Beauty treatments – little bit of luxury.
Suitable for disabled – everyone is so helpful.
There are probably lots of things I have forgotten and I could go on forever but finding a place that makes you feel at east when holidaying with a baby / child is very hard to find but I can categorically guarantee that this place has it all. All of the cottages are equipped for families and range from 1 bed to 5 bed, they can cover all of the safety aspects such as stairgates, highchairs, cots, bed guards, you name is North Hayne Farm have it and if they don't they will go out of their way to get it or help in whatever way they can. You don't have to bring bags full of toys, books, child friendly cutlery, cups etc… everything is here ready for you – even your Tesco shop gets unpacked. The setting the farm is in is beautiful and is an ideal base to visit many beaches and attractions in North Devon. Even thought we have been here many times we are still discovering lots of new places to visit. We have holidayed to a number of places around the UK since having our daughter but we always compare them to North Hayne Farm and I can honestly say nowhere compares. You have to stay at North Hayne Farm to truly believe what an amazing place it is. If you're looking for a really special holiday, then this is it.
---
Holidays at North Hayne Farm start from £440 for 7 nights. Visit www.northhaynefarmcottages.co.uk to find out more.