Read More Reviews
A morning with Coffee, Cake and some FIRST AID
Review written by Pia Howe, Toddle About Suffolk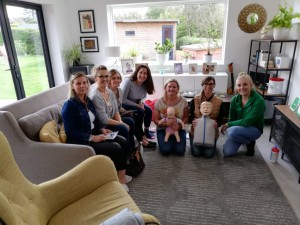 I am a mum of 2 and have recently hosted a First Aid training at my house with Mini First Aid Suffolk.
Previously this summer…
A group of us went camping - 7 children, 9 adults. Wasn't long until we got our First Aid kits out to treat grazed knees, bee stings and small cuts. I suddenly started to get some serious First Aid kit envy as mine basically consisted of a few plasters, Savlon and Calpol (I don't ever travel without Calpol!).
As we started to talk about various injuries we realised how little we actually knew about First Aid. I decided it was time for a refresher, contacted Mini First Aid Suffolk and booked a 2-hour session with my friends at my house.
What to expect
I am going to state the obvious here now but First Aid training teaches incredibly valuable lifesaving skills. You will be surprised what you learn in just 2 hours. I had first aid training 8 years ago, yet I have learned new skills and brushed up on the bits that I vaguely remembered.
Did you know that if you were to call the USA's emergency number 911, the call would be transferred to the 999 call system if the call was made within the UK? Did you know that a bit of Bee Gee's hit 'Stayin alive' help perform CPR after someone's heart as stopped?
We covered everything from CPR, treatment of burns, choking, broken bones, Meningitis, Convulsions to bumps to the head. You probably think it's a full on, intense 2-hour course – far from it! It was very interactive, informative and we did have a giggle & laugh, coffee & cake along the way too.
Zoe, the First Aid trainer, was absolutely brilliant, answered all our questions and made us feel really comfortable. She delivered easy-to-understand First Aid training and we didn't get overwhelmed with information. Remember this course isn't just for parents, but grandparents and carers of babies and young children.
I now feel confident enough to step forward to help someone in need of First Aid and at least I know I could make a difference – and that's BIG. So – if you haven't had First Aid training or just need a refresher then please get in contact with Mini First Aid. For just £20 per person you can learn to save someone's life.
Don't forget – as a host you get £10 off a Baby & Child First Aid class by quoting 'Toddle About'.