Go Back
Valentines Day Recipe: Shortbread Sweathearts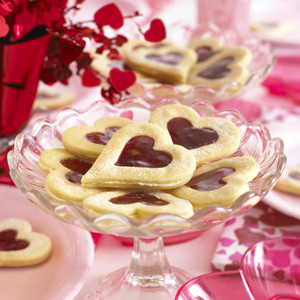 Have some fun in the kitchen with your little ones by making these cute and delicious biscuits.
Ingredients:  * 55g butter, softened * 30g caster sugar * ¼ tsp vanilla extract * 85g plain flour, plus extra for dusting * Pinch of salt * 6cm heart-shaped cookie cutter, and another that's a little smaller * 40g white chocolate, chopped * Icing sugar, for dusting * 1tbsp seedless raspberry jam Method: 1. Lightly grease two baking sheets. 2. Beat the butter, sugar, vanilla and a pinch of salt, then mix in the flour with a wooden spoon. Form into a ball with your hands. (If the dough is very soft, wrap it in clingfilm and chill in the fridge for 30 minutes).
3. Roll out the dough on a lightly floured surface to about 2mm thick. Cut out 16 heart shapes using the larger cutter. Put 8 hearts on a baking sheet. Using the smaller cutter, cut out the centres from the remaining hearts. Transfer these heart-shaped rings to the other baking sheet. Chill for 1 hour. Preheat the oven to 180°/350°F/Gas 4. 4. Bake the rings for 10 - 12 minutes and the solid hearts for 13 - 15 minutes, until slightly golden around the edges. 5. Leave to cool for 5 minutes, then transfer to a wire rack to cool completely. 6. Melt the chocolate in a small bowl set over a pan of warm water, stirring frequently. Remove from the pan when there are still a few lumps, and stir until smooth. Meanwhile, durst the cookie rings with icing sugar. 7. When the chocolate is cool, spread ½ tablespoon over each solid cookie, leaving a gap around the edge. Put ¼ teaspoon of jam of top. Place the cookie rings  on top, add a little extra jam in the middle if needed. Chill for 10 to 20 minutes until the chocolate has set, then store in a cool place.
---

Do you have a fussy eater? Check out Annabel's brand new batch of fussy eating recipes now available on her Baby & Toddler Recipe App. Get the app or update your app and access this special bundle for just £1.99. Visit www.annabelkarmel.com for more information.