More Parenting Articles
Unique and Fun Products for Little Ones: Shop About Autumn 2018
There are amazing products coming out all the time for bumps, babies and toddlers. Here's our run down of some of the best things available on the market today:

Scootaseatz – £14.99
Conveniently fitting all scooter brands and a selection of bikes and trikes, Scootaseatz encourage little ones to get out and about in the great outdoors - alongside their favourite cuddly buddy! Any soft toy can simply be strapped in and whisked away on a multitude of adventures. Buy from JoJo Maman Bebe or www.scootaheadz.com  
---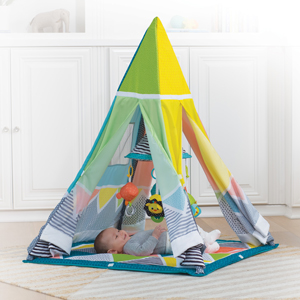 Grow-With-Me Playtime Teepee – £49.99
This multi-functional gym transforms from an infant gym into a pretend play teepee making it perfect for children from newborn up to 3 years. The teepee features patterns and textures to engage and stimulate little ones, including black and white stripes, a mirrored mobile, and four playful hanging toys. With a panda, lion, tiger and even a musical elephant included, children will have hours of lay 'n' play fun. Buy from Amazon   
---
My Personalised Storybook – From £19.99
My Personalised Storybook puts your youngster at the heart of their very own birthday or Christmas tale. Children will love their quirky unicorn-themed debut, 'Please May I Have A Unicorn?' - particularly when they discover that the entire story is narrated by them! Buy from www.mypersonalisedstorybook.com and get 20% off with code TA20.  
---
Baby Gift Hampers – From £14.99
Welcome a new arrival with a gift hamper and keepsake box. Each gift hamper is filled with a selection of baby clothes, soft toys, and pamper products. All gift boxes can be shipped directly to the new parents. Buy from www.mini-me-gift-box-shop.co.uk and get 20% off with code TODDLE20.        
---
Stitch My Name – From £12.99
For that special gift this Christmas, Stitch My Name will embroider your little one's name and date of birth on one of their gorgeous products, creating a beautiful keepsake for little ones and loved ones. Buy from www.stitchmyname.co.uk and get 15% off with code STITCH1.        
---
Life Castings – From £70
Mads & Moodle in Thame, Oxfordshire offer a specialised life casting service, using completely safe materials to take moulds of your baby or child's feet or hands. They then used this mould to create plaster replicas which are painted and framed or boxed, creating beautiful bespoke keepsakes and gifts you will treasure forever. Buy from www.madsandmoodle.com      
---
Super Nit Book – £6.99
This new, fun illustrated book for 2-7 year olds takes a taboo subject and turns it into a humorous and light-hearted adventure story.  Super nit, written by two mums called Julia from Abingdon, makes for an enjoyable bedtime story that sparks the imagination and will make any child who has nits feel better. Buy from Amazon or www.juplicatebooks.co.uk          
---
Milo's Little Book Of Weather – £2.50
Keep warm when it snows or enjoy an ice cream when it's sunny - rain or shine, Milo is the perfect companion to help toddlers learn all about the weather. Perfectly portable and ideal for the smallest of hands, the bright illustrations in this board book will keep babies entertained while on the go! All books from £2.50 at www.bookwormsonline.co.uk using code TODDLEABOUT