Go Back
Travel Products for Summer 2019
We have found some of the latest and funkiest products for making your travels with little ones that bit easier:
Munchkin White Hot Inflatable Duck Tub – £9.95
Make sure bath time routines are not disrupted by taking the Munchkin White Hot Inflatable Duck Tub on your trip. The padded inflatable bath in the shape of a duck makes bathing comfortable for kids and the Munchkin White-Hot Safety Disc reveals the word 'HOT' when the bath water is too hot for baby. This is the perfect weekend away accompaniment for little ones 6 - 24 months old. Available from Amazon    
---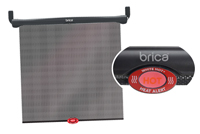 Munchkin Brica White Hot Shade – £14.99 (2pk)
For sunny days and sleepy eyes, the Brica White Hot Shade offer top to bottom window coverage where the mesh blocks the glare but not the view, protecting against harmful UV rays. What's more, its innovative White Hot indicator turns white when the temperature in the car is too hot. Available from Amazon
---
The Easy Up Booster Seat – £29.95
Compact and portable Easy Up Booster from Baby To Love allows your child to sit comfortably on any chair, anytime, everywhere. Lightweight, simple and easy to use, attach the Easy Up to your chair's bottom and back-rest, then place your toddler in the booster securing the 3-point straps, each carefully positioned to keep your baby secure without interfering with their natural movement. Available from www.babytolove.co.uk
---
Oliiki App – From £6.00
The first 1000 days of life lay the foundation of all life learning and learning through play helps children achieve their full potential. The Oliiki app helps parents by providing them with an activity a day for their bump or baby. Grounded in research, each activity is written by teachers and parents and is specific to your child's age & brain development stage. The app tells parents what to do, why they should do it and how to do it and it also provides them with the research behind it. Download at www.oliiki.com - Get £10 off the full 33-month package by filling out the contact form and quoting 'Toddle About (www.oliiki.com/contact/) and a code will be emailed to you to download the app.  
---
Recognising Faces with FindMe FindMe – £15.99 + 2.99pp
Findme Findme is a free new app, available on the App Store. The app contains educational, interactive books that will help children from six months onwards recognise friends and family in a fun way! It is free to download and there are four free books that parents can personalise for their children by uploading photos of familiar faces into the books. All books can also be purchased as a printed booklet for their own children or as a gift. www.findmefindme.com 
---