Go Back
Simply Fang-Tastic: Halloween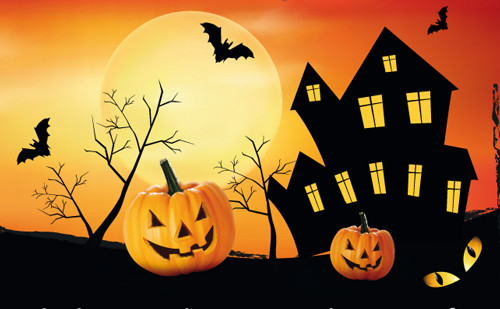 Throw a devilishly fun Halloween party for your little ones this year with some of these fantastic ideas from Carole Middleton and our friends at partypieces.co.uk. FREAKY FANCY DRESS Your little one may not be ready to trick-or-treat on their own, but that doesn't mean they can't be part of the Halloween fun. Costumes come in all shapes and sizes and there are even ones for the smallest of babies. Spidery temporary tattoos are also hugely popular. If you have a few children to entertain try setting up some trick or treat 'scary stations' around the house and garden for them to enjoy. Simply hide an assortment of toys and treats along the way. Our particular favourite is to fill buckets with squidgy jelly eyes, slippery sweet snakes plus a good handful of plastic spiders and creepy crawlies - eek! You will no doubt get some bogeymen visitors to your house too, and kids love the opportunity to scare these unsuspecting ghouls. Decorate your front door to let your neighbourhood know you welcome trick or treaters. Little ones will love answering the door to all sorts of crazy creatures and handing out the treats.
---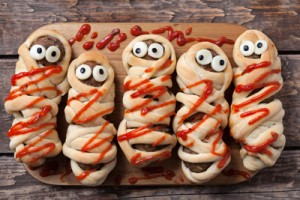 Recipe: SAUSAGE MUMMIES Ingredients:
1 x pack of ready rolled puff pastry
Flour to sprinkle
12 sausages
1 egg, lightly beaten
Soft cheese and chopped black olives, to decorate
Preheat the oven to 200°C/fan 180°C/gas mark 6.
Lightly flour your surface and roll out the pastry to approx. 0.5cm thick.
Cut the pastry into long, thin strips approx. 0.5cm wide.
Wrap the pastry strips around each sausage to create the mummy effect. You'll need 1-2 strips of pastry per sausage.
Brush with the beaten egg and place on a lined baking tray.
Bake in the oven for 18-20 minutes – until the sausage is cooked through and the pastry is puffed and golden.
Once cooled, add eyes to your mummy sausages with blobs of cream cheese and small pieces of black olives.
Tip: Left over pasty can be wrapped and kept in the fridge for another dish!
---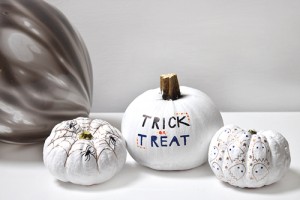 DECORATING PUMPKINS Why not take the opportunity to craft some of your very own creepy creations this Halloween. Carving pumpkins is one of the joys of Halloween, but it can be quite difficult to involve small fingers, especially when the kitchen knives come out! These painted pumpkins are really effective, all you need is some white acrylic paint (or glow-in-the-dark paint for extra effect) and a range of colourful sharpies to add your designs with. If your kids are set on scooping out the icky insides, they could try making the spooky shapes using Halloween themed cookie cutters – just make sure you leave the actual cutting to the grown-ups!
---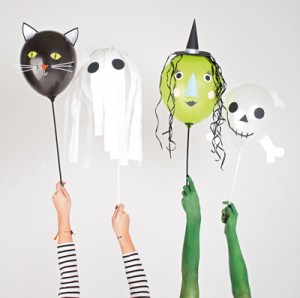 TABLE DECORATIONS What Halloween party would be complete without a matching themed tablecloth, party plates and cups? And for a truely gruesome get-together a chilling centrepiece is a must-have for your party table. These ghostly balloons look fantastic filled with helium bobbing along the centre of the table or floating off the backs of chairs.          
---
You can find all these spooktacular Halloween products, and many more, by visiting Party Pieces online at www.partypieces.co.uk or call 01635 201 844. And for more inspiration take a look at blog.partypieces.co.uk it's packed full of ideas to make your Halloween evening spine-chillingly good!