More Parenting Articles
Celebrate Stories, Love Reading: World Book Day 7th March 2019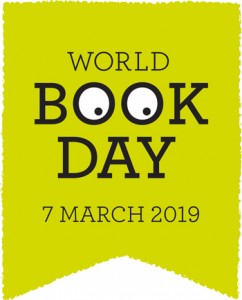 To celebrate World Book Day on Thursday 7th March 2019, we asked some Toddle About readers to review new releases of children's books to find some amazing, and less well known gems that you might want to discover for yourself. You can read all the book reviews below. Would you like to write reviews for Toddle About? Become a VIP Club Member for just £1.00 every 3 months and this is just one of the several perks you will enjoy! Find out more at www.toddleabout.co.uk/vip/
Who's Hiding? by Ana Seixas
Reviewer: Rachel Manders Buy This Book This book is colourful, a good size for toddlers to hold, and has interacting sliding panels to reveal hidden animals. These are a lot more robust than cardboard flaps or doors, and my 18-month-old son has enjoyed engaging with them. I was disappointed that there was no story as such. It would have been nice if, alongside this use of repetition to reinforce language, there was a bit more of a story to tie it all together. Overall, though, it's a nice book that my son has enjoyed.
---
You Make Me Happy by Smriti Presadam-Halls
Reviewer: Alice McPherson Buy This Book You Make Me Happy is a powerfully simple book about love and sharing special times with the people you care about. It's simple but bright illustrations will appeal to babies as well as slightly older children. Older children will notice and appreciate the sentiment and adults reading it to younger little ones will enjoy passing the sentiment on! A beautifully told story full of possibilities for discussion. Embrace the love and share it with a special little someone!
---
The Wondrous Dinosaurium by John Condon
Reviewer: Gemma Callaghan Buy This Book The Wondrous Dinosaurium is a fantastically enjoyable read with brilliant illustrations and a unique storyline. Danny is determined to get himself a pet dinosaur, but he discovers that what you wish for and what you get are sometimes two different things. He takes us on a magical journey with a funny twist at the end. I would highly recommend this book for babies and toddlers - the story is short and simple, keeping short attention spans entertained and in awe of the colourful drawings.
---
Froggy Day by Heather Pindar
Reviewer: Alana Grocott Buy This Book Hop hop hurray for Froggy Day! What a delightfully funny book to start talking about the weather. Froggy Day takes children on a journey from the TV into a traffic jam, from the shops to the sea, and from the farm to the fairground. This book is full of colourful illustrations, as well as lots of fun sounds to make as you read together, and of course let's not forget the frogs! Froggy Day is a must if your child is a fan of frogs, or the weather, or both.
---
We Eat Bananas by Katie Abey
Reviewer: Felicity Harvey
We Eat Bananas is a very colourful and engaging picture book! Great illustrations that help make it an interactive book for the child and parent to use together. This is more of an 'eye-spy' book rather than a story-telling book. But myself and my son had some giggles looking at the funny ways the animals ate their food! With a really obscure mixture of animals and foods, there is definitely something a bit different to your average book!
---
All Are Welcome by Alexandra Penfold
Reviewer: Tara Morris
All Are Welcome is a book that promotes diversity and I would think it is aimed at school age children. The book talks about their being a place for everyone and that everyone is welcome. There are more pictures than words and it would be a useful tool in schools to facilitate group discussions as it is easy to see and it creates a starting point to talk about diversity in our world. The use of words such as adversity and diversity would suggest to me that the book would need adult input to understand these words.
---
Not My Hats by Tracy Gunaratnam
Reviewer: Sophie Holford
Not My Hats stars Hettie, a hat-obessed polar bear and her friend puffin who is determined to borrow one of Hettie's prized pieces of headwear. With bright artwork and an engaging rhyming story, my two year old and I have really enjoyed sharing this book together. Hettie's extensive and varied hat collection provides plenty of opportunity to practice using descriptive words, and as the story's theme of sharing and friendship prompts great discussion.
---
Hungry Babies by Fearne Cotton
Reviewer: Vanessa Gjeta
When I saw that the author of Hungry Babies was Fearne Cotton, I was intrigued. The first thing I liked about the book was the fact it is hard back with a very catchy, bright front cover. The illustrations are amazing and it is nice that the author has used children's names from different nationalities. Everything flowed nicely with the words rhyming on each page. The story is about babies in all different eating scenarios and reminded me so much of my every day life with my son and it made me smile reading it to my son.
---
Ten Minutes To Bed Little Unicorn by Chris Chatteron
Reviewer: Karen Philpott
My son (3yrs) loved reading this book with me and kept choosing it for story time every night. My daughter (8mths) enjoyed listening along and looking at the pictures which are so cleverly integrated with the words. We enjoyed exploring the map on the first and last pages. What a clever book, sneaking counting into a fun story and so many fun characters met along the adventure. I asked my son what his favourite part of the book was and he said, "The hairy troll"!
---
Things That Go by Matthew Morgan
Reviewer: Michelle Hayes Buy This Book The simple yet bold and colourful illustrations in this Things That Go book quickly engage young readers, however, it is the sliding pages which really captivate - what starts as a single aeroplane becomes a full air display as you pull out the pages. The actual slide out pages are quite robust but it can sometimes be a bit tricky sliding them back in which has the potential to frustrate the little one. Each page has a different vehicle and the simple rhyming text make it suitable from a young age and the novelty will keep them entertained.
---
Into The Forest by Laura Baker
Reviewer: Lauren Cowley Buy This Book The minute my little boy laid his eyes on this book all he wanted to do was read it. He really enjoyed pointing at the animals in the book, shouting their names and touching each different texture throughout. The rhymes in the book were appealing and short and sweet for little ears to hear and learn. The different page shapes enable you to see which animals are featured throughout the book with added frogs and butterflies along the way. It's a lovely introduction to wild animals and their habitats.
---
Not Yet A Yeti by Lou Treleaven & Tony Neal
Reviewer: Chloe Langley Buy This Book This book is beautifully illustrated and the wording on the blurb grabbed me straight away; "A story of courage, acceptance and finding yourself." Upon opening the book, it is dedicated "To you, whoever you decide to be," which I think is a lovely message to put across. The story itself is simple yet effective, with short and understandable sentences which were perfect for my nearly 2-year old daughter. She also loved the illustrations and I like that they become more colourful when George found himself and accepted that he was different.
---
Hop Little Bunnies by Martha Mumford
Reviewer: Suzanne Gaines Buy This Book At first sight the book made me smile, bringing back memories of playgroups past with the little ones singing this lovely sweet tune. The story is good for toddlers and when they are a little older, and they begin to read on their own. The story makes great use of all little animals children love and know. The drawings are fun, lively and vibrant with good sturdy flaps. It is a good size and weight to sit down with comfortably, and the children can use up any extra energy by jumping before going to bed! A great read for all the family to enjoy.
---
How Rude! by Clare Helen Welsh
Reviewer: Ria Burch Buy This Book An appealing looking book which teaches children in a simple but effective way about manners and friendship. I would have liked more polite behaviour at the end but I did fine the illustrations adorable! The facial expressions of the characters brilliantly captures the intended emotions, meaning a child can easily understand what is happening. My daughterly particularly loved shouting, 'How Rude!' This is a great book to share with a pre-schooler, for guaranteed giggles and conversation starters.
---
Nuri Means Light by Joy E Triche
Reviewer: Katie Skelton Buy This Book Nuri Means Light is a beautiful book about a little girl on her first day at preschool who learns about the diverse names of children in her class and the meanings behind them, finally discovering the meaning behind her own name. My four year old son really enjoyed this book. The pictures are bright and clear and the story itself is a nice length for pre-school age children. It was refreshing to read a story with a diverse range of characters. It encouraged us to look up our own names and the meaning behind them which we really enjoyed.
---
Marie by Isabel Sanchez Vegara
Reviewer: Sarah Hopkins Buy This Book We have all enjoyed reading this inspiring little biography about Marie Curie. It's a wonderfully informative book, with simple text accompanied by beautiful illustrations, telling the wonderful story of Marie, and her dream to become a scientist. I feel the book is best suited for 4-7 year olds, nonetheless my 2½ year old enjoyed the story. It's a fantastic story to help our little ones learn about important people in history and inspire out scientists and engineers of the future. I hope there are more in this series.
---
Adora Bull by Alison Donald
Reviewer: Emily Short Buy This Book With my children, Elena (4 years) and Blake and Beatrix (nearly 2 years), we gathered at bedtime to read this book and we loved it. It's a lovely demonstration of friendship and a bull's hi-jinks. Alfred the bull unfortunately thinks he's loosing his best friend Tim bow he's at school so Alfred does his very best to be adorable, but Tim has a bit of a surprise for Alfred. The pictures are lovely and detailed and allowed us to chat and elaborate this lovely little story that demonstrates a strong bond.
---