Go Back
Little Monster Father's Day Card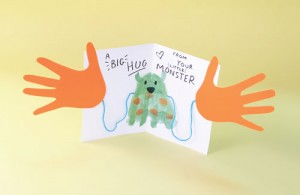 To show your dad just how incredible he is, make a card featuring a big hug from his favourite little monster. YOU WILL NEED:
White Card
Coloured Card
Wool
Tape
Paint
A Pen
Scissors
FOLLOW OUR HANDY INSTRUCTIONS TO MAKE A SIMPLE CARD HE'LL LOVE:
Draw around your hands on the colour card. Cut them out.
Fold the white card in half.
Paint your hand and print it upside down on the white card to make a monster body. You can add extra details with a paint brush. Add eyes and a mouth with a pen.
Tape one two pieces of wool for long, hug-ready arms!
Stick on your cardboard hands. Add a special message for the world's greatest dad.
---
toucanBox is an award-winning subscription service delivering activity kits to kids age 3-8. Each box is built by educational experts to help develop key skills through hands-on play. All the materials, instructions and inspiration are included to make getting creative easy, stress-free and really good fun. Use code TODDLE at toucanbox.com for a free-trial.