Go Back
Keeping their lunchbox interesting and healthy: Ideas to 'spice' things up a bit
Written by Debbie Channing.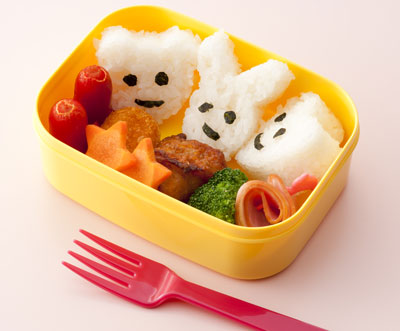 Children will normally love it if you get creative and make their lunch fun[/caption] So your little one is due to attend nursery all day… If your child is still a baby, then feeding is relatively simple: formula milk or pureed foods. But what if your child is of toddler age and the nursery requests that you send in a packed lunch? What are you going to put in the lunchbox? If you have grown tired of making the same sandwiches day after day, your pre-schooler will probably be bored of them too.
Here are some things to consider:
Children are growing and developing, so it is important that to provide some tummy fillers such as starchy foods like bread, rice and pasta to give them energy and satisfy their appetite. Remember to vary the portion sizes depending on the age and appetite of your child. It's never too early to encourage a child to eat a healthy diet - the eating habits formed as children often continue into adulthood. So if we model a nutritional, balanced style of eating to our toddlers, we are giving them tools for life. We need food from all the food groups, such as proteins (e.g. meat, fish, eggs, beans, cheese, yoghurt), carbohydrates (e.g. pasta, bread, potatoes), fruit and veg, and vitamins to help your child's growing bones and give them a healthy dose of brainpower for the afternoon ahead.
Be aware of the sugar content of foods. Sugars can be hidden under other names such as sucrose, glucose, fructose, maltose, dextrose, fruit syrup or molasses. Aim for the 'no-sugar added' variety, but be aware that this may mean they have used chemical sweeteners, which are also not the best option. Be aware that some foods are fat saturated and therefore should just be the occasional treat.
So here are some lunchbox suggestions:
Small cheese stick or individual portion of cheese, cheese cubes or cottage cheese.
Vegetables e.g. cherry tomatoes, cucumber or celery sticks, carrot batons, sweet pepper slices, mangetout. Be mindful of toddlers under three being supervised when eating raw vegetables.
A dip such as hummus or taziki with vegetables as above or small slices of pitta bread. Or make your own dip e.g. honey & mustard, pesto or cream cheese.
Rice crackers, crisp bread, breadsticks, savoury flapjack.
Occasional treats - small cake, biscuit or a few crisps.
A pasta dish salad, rice salad, cous cous, potato salad, tabbouleh.
Sandwiches or wraps, potato cake, pancake.
Fillings - wafer thin cold meat, tuna mayo, grated cheese, cream cheese, egg.
Baked items such as small slice of pizza, spring roll, croissant or quiche.
Eggs - hard boiled & sliced or small savoury egg.
Seasonal fruit - e.g. banana, kiwi fruit, satsuma, peach, plum, grapes, strawberries, melon, mango, pineapple - either individually prepared or in a fruit salad.
Apple or pear, cored, peeled and cut into small pieces (you may need to ensure that the staff supervise this to avoid choking).
Fruit puree in a small pot or a smoothie in a sealed beaker.
Small pot or packet of raisins, sultanas, dried apricots or sunflower or pumpkin seeds (if your child is old enough to chew them properly).
Yoghurt or fromage frais or jelly (remember to pack a disposable teaspoon, as many of them don't seem to make their way home again!)
Other tips and suggestions:
Check if your nursery supplies drinks - it is important to keep your child hydrated. If you have to supply the drinks, avoid fizzy or carbonated ones. Instead, encourage your child to drink water, milk based drinks or diluted fruit juice.
Have a trial run at home before that first day of taking lunch – this is a great chance to check that your child can open everything on their own. Make sure that your child's name is clearly marked on the lunchbox and add a sheet of kitchen roll or paper napkin to wipe their hands or clean up any spills.
Try to avoid rushing in the morning by preparing as much as you can the night before, then keep it fresh in the fridge (many of the suggestions above can be made the night before). Remember to think small - most young children can't physically manage huge portions.
Bento lunch boxes are ideal for nursery aged children, with their small separate compartments or use a larger box with small-lidded containers within to stop the grapes from squashing onto the pitta bread etc
Be creative and make a 'safe' skewer from a straw and cut up the ingredients into small pieces and thread together e.g. small piece of chicken, slice of pitta bread, cube of cucumber etc - making food fun may encourage a picky eater to try something new.
If your child is learning their letters, then it can be fun to theme the lunch to a letter of the day e.g. use a biscuit cutter (or a knife) to make the sandwich in the shape of a 'c' and then other foods that start with that letter e.g. cucumber, carrots, cottage cheese and cous cous or on a 'p' day - pasta, peppers and peaches etc
Even fussy eaters should be given a variety of different foods in their lunchbox (plus a couple of favourites so you know they won't go hungry). They're more likely to eat new foods when surrounded by other children eating and not being watched by mum or dad.
Children rarely go hungry and if you remain relaxed about the whole process, they will pick up on those positive vibes and it will be one less thing to worry about.
I hope that helps - happy lunching!
---------------------------------------------------------------------------
Debbie Channing is on the Toddle About Panel of Experts Parent Coach & Chief Executive of Time 4 Change, Debbie has over 20 years' experience working with parents & children. For further information, support and advice please see her website - www.debbiechanning.com - or email her at Debbie@debbiechanning.com