Go Back
Keeping Baby Safe in the Sun
How wonderful to have a summer baby! Imagine long, hot beautiful days in the garden - a gentle breeze rocks your baby to sleep, while you sip on a chilled drink. Bliss!
On the other hand - sunny days with soaring temperatures require some preparation and a few precautions or that idyllic scenario could end differently with your baby becoming hot, irritated and dehydrated.
Little Bundle Box has prepared a few tips on how to keep your little one is safe in the sun. All very practical with a dollop of common sense.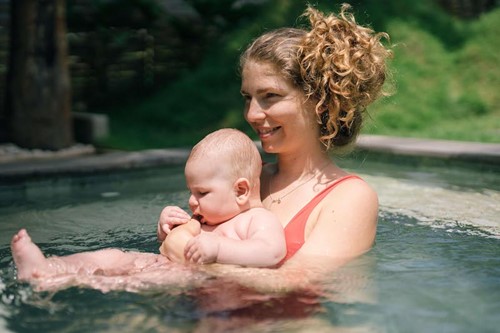 Baby Temperature
Babies can't regulate their body temperature like we can, and easily overheat. So keep babies under 6 months away from direct sunlight and in the shade.
You will know if your baby is too hot as their hair becomes damp, cheeks redden and breathing can be a little faster. Lethargy and visible signs of body sweating are also signs. If you're worried, move baby to a cooler location, cool them down with a damp cloth and offer milk.
Use a sunshade when your baby is in the pram. Not only does it prevent sunburn, it also keeps a pram/buggy's temperature lower by several degrees. However avoid covering the whole pram with a blanket as that acts to raise the temperature.
On very hot days holding your baby in a paddling pool is an ideal way to keep you both cool, and it's fun too!
Baby Skin
Baby skin is extremely sensitive to the sun, so apply a sunscreen with a sun protection factor (SPF) of at least 30 to your baby's skin at regular intervals.
Ensure the product also protects against both UVA and UVB rays.
Pick a sunscreen specifically made for babies and young children, as these products are less likely to contain additives that might irritate their skin.
Dehydration
It's important if breast-feeding to feed on demand on hot days, which keeps your baby hydrated.
If you're bottle-feeding, as well as their usual milk feeds, you can give your baby a little cooled boiled water.
Summer Clothing
Daytime - over-dressing can cause heat rashes, which irritate the skin. The best thing to avoid a rash is to use loose cotton clothing. A brimmed cotton hat helps your baby's head keep cool and also shades from the sun too.
Nighttime - a light, breathable cotton onesie is enough to keep baby warm during hot summer nights.
Car Travel
Shade the car window against the sun and never leave your baby in the car.
On long journeys, make frequent stops to take your baby out of the car seat, especially if the seat is fairly upright and baby is slumped when sleeping.
For a newborn baby, it is advised to limit car journeys to 30 minutes at a time. For 1-6 months, your baby should sit/sleep in their car seat for no more than two hours at a time.
If possible an adult should also travel in the back seat to keep an eye on them too.
Bath & Bedtime
Bathing baby in lukewarm water before bedtime helps to reduce baby's core temperature before bed, which in turn aides sleep.
During the day if you close the curtains or blinds in the nursery it will keep the room cool for evening.
Your baby will sleep best if room temperature is between 16C and 20C. A fan can help circulate air on very hot nights.
Cotton sheets can also help keep baby cooler at night and improve sleeping in the heat.
Remember you can always ask your health visitor or another health professional for specific advice which will then be tailored to meet your baby's needs.
Wishing you all a very happy Summer!
For summer baby gifts, take a look at Little Bundle Box and their range of baby gift bundles tailored for the warmer weather.