Go Back
Colourful Fruit and Veg Lollies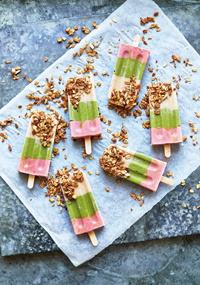 Written by Emily Leary. These delicious smoothie lollies contain only natural ingredients and can be whizzed up in minutes. Make sure the kids get involved in adding the spinach and watching the lolly mixture turn green. Remember, this isn't about hiding veg, it's about celebrating all the ways it can be used, and challenging our perceptions while enjoying our food. PREP TIME: 10 MINS • FREEZE TIME: OVERNIGHT • MAKES 6 LOLLIES Ingredients:
4 tablespoons natural yogurt
2 bananas
1 teaspoon vanilla extract
small handful of baby spinach
2 strawberries
Granola, to serve
Method:
Pop the yogurt, bananas and vanilla into a blender and blitz until very smooth.
Pour one-third equally between 6 lolly moulds.
Pour half of the remaining mixture into a bowl. Add the spinach to what is left in the blender jug and blitz again until bright green. Divide the green mixture between the lolly moulds.
Finally, rinse the jug and return the reserved mixture to it. Add the strawberries and blitz until pink.
Pour into the moulds, push in lolly sticks and freeze overnight. Best eaten on a hot day, dipped into granola!
Tips:
Cucumber adds a light, fresh taste.
Cauliflower can make chocolate lollies particularly creamy, as can avocado.
Always taste the mixture before pouring into the moulds and add a dash of honey or more sweet fruit if it seems bitter.
---

Get Your Kids to Eat Anything;: The 5-phase programme to change the way your family thinks about food by Emily Leary, is published by Mitchell Beazley and available at Amazon.co.uk