More Parenting Articles
Chromatography Butterfly Craft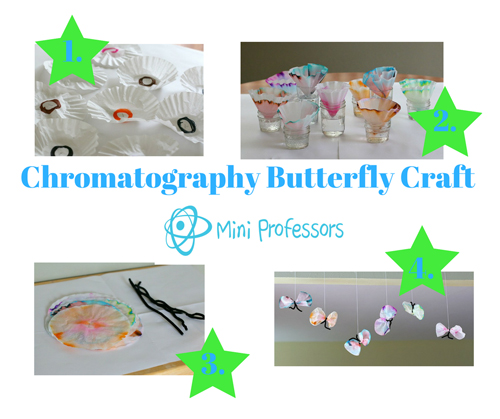 By Leigh Whitwell from Mini Professors Most children are used to mixing colours with paints or play dough, but have your children had the chance to try separating colour mixtures? In this experiment, you can explore chromatography (separating mixtures) with your child, whilst making beautiful butterflies in the process. Using coffee filters, you will separate the various pigments in marker pens to see how each colour was created!
You will need:
Non-permanent marker pens
White Coffee Filters – although kitchen roll also works
A Pencil
Short drinking glass
Cups of water
Black pipe cleaners
String
Scissors
What you need to do:
Choose one marker pen to experiment with first (Hint – Black & Browns are the most exciting)
Take one coffee filter and draw a thick circle around the centre of it where the ridged part meets the flat centre.
Fold the coffee filter in half and then in half again, resulting in a cone shape.
Put some water in your glass (approx. 1cm deep). Pull apart the cone shaped coffee filter so it balances right on the glass with the tip of the cone just touching the water (Be sure NOT to let the marker circle go in the water, just the uncoloured tip).
Let it sit and watch what happens as the water begins to flow up the paper.
Repeat with different coloured markers
After the water has reached the outer edge of the coffee filter, place it on a newpaper to dry.  When they are dry, you can observe the results – and make your butterflies.
Making the Butterfly Craft
Cut your black pipe cleaners in half.
Take one of your coloured coffee filters and scrunch it up in the middle
Wrap your pipe cleaner around the centre
Shape the ends to form antennae
Tie a string to the centre and hang!
Questions & Ideas to spark more curiosity
What colours do you see? How many colours do you see? Which one do you find the most interesting? Why?
Why not try different types of papers and see how the colours separate - is there a difference?
---
About the Author Leigh Whitwell runs Mini Professors classes, which are a weekly science adventure for children aged 2-5 years. Her classes running in Abingdon, Didcot & Millets Farm on weekdays and Saturdays. These fantastic classes introduce your child to the exciting world of science. At Mini Professors, they explain science in simple ways with fun experiments, and your little Professors are encouraged to explore, ask questions and experiment as much as possible. With two years' worth of lessons no two classes are the same, covering all kinds of subjects such as storms, blood, polar regions and chemical reactions, with different subjects for each age group. For your nearest class visit www.miniprofessors.co.uk, or contact Leigh at oxfordsouth@miniprofessors.co.uk