More Parenting Articles
Caring for the Hair of Children with a Natural Texture
By Dionne Smith, Award-Winning Celebrity Hairstylist @dionnesmithhair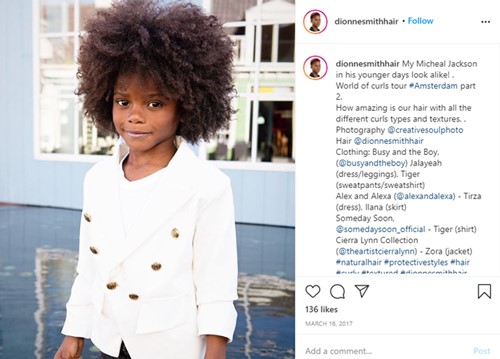 Although most parents assume they need to wash and care for their babies hair on a regular basis, or at every bath time, up until around 2 years old it actually doesn't need much at all as young hair doesn't tend to produce much oil. Over washing can disturb the natural balance.  For children with naturally textured hair aged 0 – 2 years old, I would suggest shampooing no more than twice per week, and even then, to only use a simple baby oil to keep the hair moisturised and healthy. My recommendation is the classic JOHNSON'S® Baby Oil, £2.50, Boots. 
From about 2 years old and onwards, children's hair starts to settle into its natural texture pattern, and at this point my advice is to reduce shampooing to once a week, as natural hair produces less surplus oil, which in turn means it does not accumulate the same level of dirt and dust. You will know it is time for a wash when your little one's hair feels dry to the touch.  
As infants get older, from around 5 or 6, move to a two weekly washing routine, especially if their hair is less oily. Try From 12 months onwards Cantu Care For Kids Tear Free Nourishing Shampoo 237ml, £4.99, Superdrug, or the SheaMoisture 100% Virgin Coconut Oil Shampoo and Conditioner, £10.99 each, Boots. 
All I recommend for young children in terms of wash day is shampoo, conditioner, and a good moisturising product. Choosing the right products for the hair is important, so try to understand your baby's hair pattern, curl or coil type and porosity. This will arm you with the knowledge as to how it may change as they grow and how their locks will adapt the products. If you are unsure, ask your hair stylist to explain their hair type to you, and to explain what their hair needs, for example, a protein rich, or protein free product. There are also amazing online guides, Google is your friend. 
Children's hair is at its weakest and most vulnerable whilst wet because it loses its elasticity. Elasticity is the capacity your hair has to resume its normal shape after being stretched or compressed. Because wet hair loses its elasticity, it is not stretchy, so brushing, combing or tugging it whilst wet will increase the likelihood of hair breakage or shedding. 
After washing your little ones hair, it is best to brush or comb it when it is damp or semi dry because that is when the elasticity of your hair is somewhat restored, with a specialist brush such as the CANTU Detangle Easy Glide Brush, £5.99, Superdrug.  
When brushing or combing semi dry or damp hair, start gently at the tip, gradually working your way to the root. Starting at the tip allows you to gently detangle hair, avoiding breakage and unnecessary hair loss.