Go Back
5 fun plastic bottle craft ideas that will keep the kids busy this summer
The summer holidays are here, so you might be looking for new ways to entertain the kids. Here, Scott Hawthorne, from waste management experts SkipsAndBins.com, shares some creative craft projects that will keep the kids busy for hours on end, as well as helping you to reduce your household waste.
These days, we're all becoming more aware of the impact that our choices have on the environment, particularly when it comes to single-use plastics. Plastic bottles in particular are a huge problem: over a million plastic bottles are now bought every single minute worldwide, many of which are never recycled (Guardian).
So, if you want to do your bit to help the environment, one of the best ways to do this is by re-using old plastic bottles around the house whenever you can. In this article, I've shared five ways you can use plastic bottles in craft projects with the kids — perfect for rainy days during the summer holidays!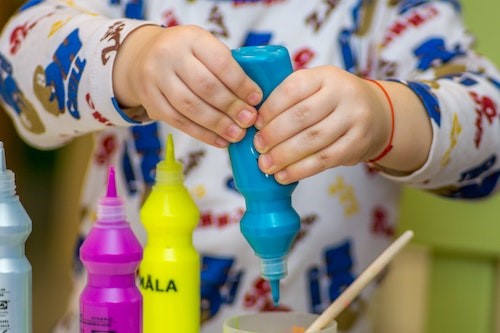 Create some pretty wrapping paper
Have you ever noticed the circular ring of raised bumps on the bottom of plastic fizzy drinks bottles? Owing their almost floral shape, these can make great homemade stamps for the kids to use in craft projects. All you need to do is dip the bottom of the bottle in some paint, and then stamp it onto some brown parcel paper to create a pretty floral motif. This makes lovely wrapping paper, so it's ideal if there's a birthday or other special occasion coming up.
For best results, use a couple of bottles in different sizes — like a 500ml and 2-litre bottle — to create a more interesting pattern. Be sure to wash the paint off the plastic bottles when you're done, so you can re-use them again in future — you could even use them again for one of the other crafts we've suggested here.
Make a money box
Making a piggy bank is fun creative craft project that's also a great way to teach little ones about the importance of saving up. To turn a bottle into a simple savings tin, you'll need a plastic bottle, some scissors, and some craft supplies to decorate it with. Start by cutting a slit that measures 3cm across and 0.5cm high into the top of the bottle (leave the cap on the bottle). Then, let each child decorate their bottle to their hearts content.
If they're aiming to save up for a particular toy, you could add this to the bottle to help them focus on it: e.g. "Molly's Lego fund". They'll soon learn that if you look after the pennies, the pounds will look after themselves! Cashing in their piggy banks is also a great opportunity to practice adding up, too.
Colourful bird houses
Turning a large plastic bottle into a bird house is very eco-friendly, and you'll be helping your local wildlife. Plus, the kids will love watching birds come and go during the autumn and winter, and it can be a great educational opportunity to learn more about the life cycles and nesting habits of different birds.
For this craft, you'll need to cut up the plastic bottle using scissors and score a hole in the top, which can be a fiddly job, so you'll want to tackle this part yourself. Then, once the pieces are ready, the kids can start designing their own bird box using some paints. To learn how to do this step-by-step, take a look at this guide from Creative Craft Nights.
Make a colourful spaceship
A 2-litre plastic bottle is just the right size and shape for kids to make their own toy rocketship. For this craft, you'll need a large plastic bottle, leftover cardboard, craft glue, and some coloured crepe paper, tin foil, and paint for decoration — you could even use some UV paint for a cool glow-in-the-dark spaceship! To get started, cut out some cardboard fins and thrusters and stick them onto the bottle using a strong glue. You can also cut a hole in the bottle to act as a window — this will also come in handy if your little ones decide to send some of their toy figurines on a space mission when the rocket is finished.
One the basic shape is finished and the glue has dried, kids can get decorating! Older kids can try their hand at creating a NASA-style shuttle rocket, or you could just let their imaginations run riot as they create their own dream spaceship. The finished rockets look great when hung from the ceiling of a child's bedroom with a bit of string.
Jellyfish in a bottle
For something a little more out of the box, why not create a jellyfish in a bottle? This cool craft project looks incredibly convincing — kids will love to fool friends and family members into thinking they've really gotten their own pet jellyfish! Plus, it's quite simple to do. All you'll need is a plastic bottle, a clear plastic bag, and a drop or two of blue food colouring. Take a look at this guide from BhoomPlay to learn how to do it! This is also a good opportunity to encourage the kids to learn about real jellyfish, so encourage them to ask questions and do some research together.
If you're looking to reduce your household waste, try some of the plastic bottle craft projects I've shared here. Not only will you be doing your bit to save the environment, but it's a fun way to keep your little ones busy during the summer holidays, too.