Read More News
Warwick Arts Centre's opening celebrations
A FREE weekend of family events and activities.
Featuring Air Giants' Coral Avenue, pop-up performances & PAW Patrol.
As Warwick Arts Centre reopens its doors, the Coventry venue welcomes visitors back with a series of free activities (1-3 Oct), and pop-up performances (4-9 Oct).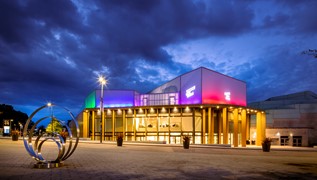 Following the biggest transformation in the building's 47 year history, Warwick Arts Centre's undergone a significant upgrade, with a more spacious and welcoming foyer, three state-of-the-art new cinema screens, and more.
The Opening Celebrations begin on Friday 1 October 2021 with buskers and dance performers outside the venue and in the foyer, while Saturday 2 and Sunday 3 October (10am-4pm) is focussed on welcoming families and friends with two days of free performances, creative workshops, artist-led activities, buskers, and more. Highlights include free screenings of PAW Patrol: The Movie and delightful animated compilation Nature's Tales, plus workshops covering such activities as stop motion animation, dance, and origami.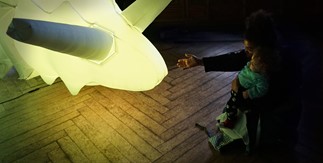 Meanwhile, the outside of the building will be dominated by Air Giants' Coral Avenue (1-4 Oct). A group of joyful interactive inflatable robots inspired by undersea life, these impressive 'creatures' respond to passers-by.
There will also be guided tours of the building, allowing visitors to see not just the impressive new public areas, but also behind the scenes of the much-loved venue.
Throughout the week (4-9 Oct), the centre will also host free drop-in workshops for visitors (from 1.30pm-4pm) covering textiles/ stitching, photography and beatbox poetry, followed by pop-up performances each day from 6.30pm-7.30pm, prior to ticketed events from Caroline Criado Perez (5 Oct), New Art Club (6-7 Oct), Russell Brand (7 Oct) and the Royal Philharmonic Orchestra (8 Oct).
Doreen Foster, Warwick Arts Centre's Director, said: "It's so good to be finally opening the doors, and welcoming visitors back, and we can't wait to fully re-open.
"Everything everyone loves about the centre remains – from the always popular cinema, showing films from around the world, to the multi-purpose performance spaces – but there is now much more flexibility in terms of spaces as well as what we can programme.
"Warwick Arts Centre plays such an important role in the cultural and social lives of so many people in Coventry and Warwickshire. Working in local communities and with local residents is vital to who/ what we are as an arts centre, and we feel privileged to be doing more of that work, both in our new Arts Centre and out in local communities."
Warwick Arts Centre's transformation has taken four years to complete. The new cinemas are opening first with a series of special £5 Preview Screenings from Thursday 23 to Wednesday 29 September, with the performance spaces welcoming visitors from Friday 1 October, with an appearance from acclaimed musician John Grant. Further highlights from the Autumn 2021 Season include the much-anticipated new James Bond film, No Time To Die (from 30 Sep), and Made In Coventry (9 Oct), which celebrates the contribution of inspirational women to the region's music scene.
Warwick Arts Centre's Opening Celebrations are on Saturday 2 and Sunday 3 October 2021, from 10am-4pm, admission free, no booking required. For more information see: www.warwickartsentre.co.uk