Read More News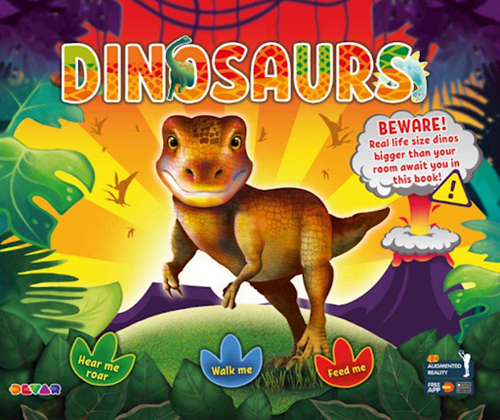 Dinosaurs, an interactive dinosaur encyclopedia, use the special promo code dinotoddler to get 10% off and free shipping at www.the-dinosaur-book.com
As parents, we are always looking for new ways to teach our children and inspire a thirst for knowledge in them. Towards the end, we know how important creative strategies are to effective education. We are constantly searching for new tools that we can use. Here we present a dinosaur book that uses the technology of augmented reality to bring the pages of your book to life, elevating children's' reading experiences to a new roarsome level.
Powered by AR Technology
Dinosaur Encyclopedia is not just your typical book; it's an augmented reality book. Download our free groundbreaking app from the google play store or apple app store onto your mobile device. After installation is complete, open the app on your mobile device and scan the pages of the book. You will be amazed as fresh life is breathed into the dinosaurs with every flip of a page. Watch the animations leap forth into the real world right alongside interesting facts. Find out what their diet was, where they lived and how they moved along with information about these majestic creatures. 
Ever wondered how big they really were? 
Our app has a secret function which allows you to bring dinosaurs back to their original size. Watch your child scream in joy as they run outside with the book in hand to discover the true size of these amazing creatures that once ruled the earth. You can take videos and pictures with the dinosaur using your phone! Create special memories with your child together with their favourite dinosaurs. Imagine meeting a T rex in the park!

"Kids whose parents read to them most days have higher IQs. This is especially true if you make reading an interactive process, rather than one where the child simply listens."  Bryan Roche, Ph.D., Behavioral psychologist. 
Perfect for fun, educational afternoons spent as a family, this book is the closest you can get to the Jurassic, the Triassic, and the Permian periods without a bona fide time machine.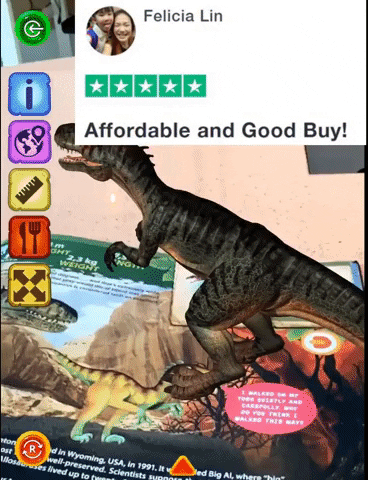 The perfect gift for a dinosaur lover
We thank you for taking time to read this blog. This book was born out of love from daddy and mummy who wanted their son (A BIG DINOSAUR FANATIC) to love reading. Family owned and operated, we are a small business based in Singapore. We value education and fun, which is why we work to bring a whole lot of both to our flagship product, Dinosaurs. Any time we can, we will spend entire evenings reading – laughing, learning, and sharing together.

Feed your dinosaur, walk your dinosaur, learn about your dinosaur, and make plenty of dinosaur friends!
Use the special promo code dinotoddler to get 10% off and free shipping!