Read More News
Maternal Wellbeing App NOURISH Launch 'Quick Time Out For Mums'
Nourish, a wellbeing app created by mothers for mothers, have launched 'Quick Time Out For Mums'- an SOS button within the app for those moments when mum needs an instant destress; some in-the-moment TLC or a quick way to reboot.
The 'Quick Time Out For Mums' button offers a collection of bite-sized mantras, meditations, breathing exercises and yoga poses for those moments in motherhood when mums really need a moment of 'time out' themselves.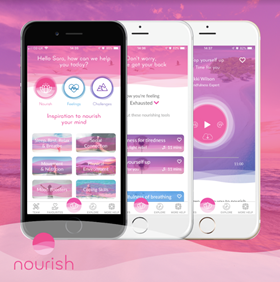 The 'Quick Time Out For Mums' collection offers material that only takes two to three minutes to listen to, watch, or read – because often that's all mums have. Accessible anytime, anywhere, the button provides access to moments of self-care that can be dotted throughout the day - while the kettle boils, while the kids play, or even while mum's hiding in the loo!
The Nourish App content has been created by a team of real mums who are leading wellbeing professionals across a broad spectrum of specialisms including psychology, yoga, mindfulness, nutrition, physiotherapy, and more. 
Nourish Founder, Sara Campin, said:
"Carving out 'me-time' is harder than ever at the moment and yet with our intense living circumstances and all the stress and anxiety the pandemic brings, mums need it more than ever to be able to access their best selves for their families and for themselves. With the Quick Time Out For Mums button we wanted to champion what even just a few moments of breathing, movement or mindful thought can do to help soothe frazzled nerves and foster a sense of calm. We hope by curating a selection of Quick Time Out For Mums material we can help mums out there to take a moment to relax, reflect and nourish themselves."
To find out more, download the Nourish app and access a 1 month free trial or visit thenourishapp.com