Read More News
Play Makes Everything Better
My WiSH Charity are thrilled to announce that they have reached their #25 Appeal target of raising £25,000 to provide a play specialist for a year for the paediatric emergency department.
Claire Thompson joined the West Suffolk NHS Foundation Trust back in the spring time after My WiSH Charity also secured her first year from donations to their Help Your NHS hospital Covid appeal.
It didn't take long for Claire to make a difference to the young patients. She brings many years of experience and has helped to make the department less scary and more fun. It is proven that, if a child has a good hospital experience, it can greatly reduce the future development of hospital phobia.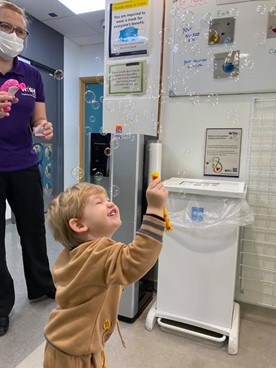 Ruth Hassall, the lead paediatric nurse in the emergency department said "In my experience play specialists can make the whole experience of attending the hospital more positive for children and their families.
They can support children, families and staff through difficult experiences, make the department less scary and more fun without taking away from the necessary and often unpleasant things we have to do".
Working closely with Claire is Laura Nudds, the new play specialist on the Rainbow Ward. Laura has been a nursing assistant on the ward so is no stranger to caring for children. She recently joined My WiSH Charity to thank Gary Lockwood for his incredible donation of £1,516.74. Gary wanted to thank the Rainbow Ward for the care they showed to his son Bobby who suffered a nose bleed that just wouldn't stop. Not only did staff care for Bobby they also ensured that Gary and his partner, Tina, were looked after too. Gary said "As well as ensuring Bobby was cared for, staff made sure Tina and I ate, drank and slept which was just wonderful".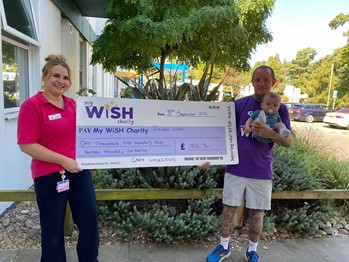 To raise this fantastic sum Gary ran not one, but two marathons, back to back taking almost 9 hours to run the 52.4 miles. And Laura plans to spend this money buying toys and equipment to help her in her new role.
If you would like to support our WiSH Upon a Star Children's appeal or any other paediatric area at West Suffolk NHS Foundation then please go to www.mywishcharity.co.uk to find out more. You can also find them on Facebook, Instagram and Twitter.