Read More News
Brand new February half term event in Ipswich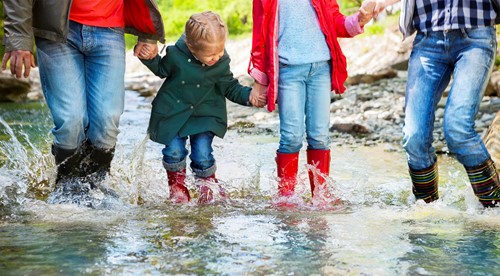 The first quarter of 2020 introduces two new events to Ipswich, with St Elizabeth Hospice adding Welly Wednesday and the First 5K to their fun-filled calendar of events for the New Year.
Kicking off with Welly Wednesday this February half term, families are invited to Christchurch Park to take on our 2.5km obstacle course, complete with five inflatable obstacles for you and your children to tackle as well as a welly toss challenge.
Catherine Sheppard, the events and challenges fundraiser for Welly Wednesday said "This new event is a fantastic day out for your family. We all know how difficult it can be to keep children entertained over the half term, so this event will take the stress of that away – for one day at least. Welly Wednesday also answers another need; raising awareness and money for the hospice, which looks after over 2,000 patients each year."
Welly Wednesday takes place on 19 February 2020 at Christchurch Park, Ipswich.
Toddle About readers get 20% off tickets by using code WELLY20 at checkout. 
Sign up here: www.stelizabethhospice.org.uk/wellyweds
Sprinting in to Spring, St Elizabeth Hospice have their First 5k event on 15 March 2020. Launching this January, they're asking local people of Ipswich to lace up their running shoes, start training to run their first long distance run and to raise £100 in aid of the hospice. Their headline sponsor FTC Gym has provided 10, 6 and 4 week plans for those signed up to follow, ensuring that they can join them for their big group run at Trinity Park to celebrate achieving a new goal. They also have two ambassadors from the hospice taking on the challenge to show that anybody, of any ability can join in this event. Sarah Grand, finance administrator and one of the First 5K hospice ambassadors said "Having hit a few road bumps in life this year, the staff wellbeing program has assisted me to get back on my feet, quite literally now. Trying to build on this I am encouraged to give the First 5k a go. Like many I have a desk job, I admit to being a little over 40 and have gotten well… podgy!
"As exercise is 'not my thing' apart from gentle dog walks, doing this is a big step for me. I see this an achievable goal to get fitter and a great opportunity to raise some money in the process. I will be making good use of the training plan and any advice that's on offer."
If you want to take on the challenge like Sarah and many others in Ipswich, sign up here: www.stelizabethhospice.org.uk/first-5k/