Read More News
David Lloyd Clubs opens its (virtual) doors for free to everyone
For the first time ever, David Lloyd Clubs is making its app free for all. The App users have access to over 600 classes ranging from yoga and Pilates, to HIIT, post-natal workouts and mobility sessions for runners, all delivered by the David Lloyd Clubs expert team!

But on top of that there's so much more – from virtual coffee mornings, quiz and disco nights, book clubs, kids clubs and interactive workshops for all. There really is something for everyone!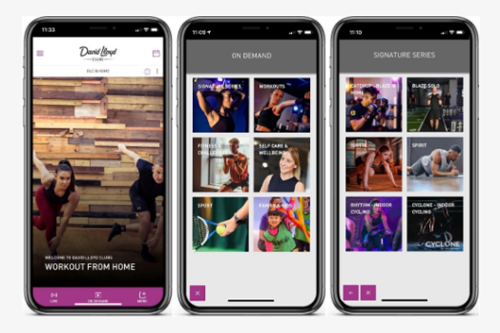 What's Going On?
With Lockdown 3 and nearly a year of restrictions due to the Covid-19 pandemic taking a physical and mental toll of the nation's health, David Lloyd Clubs is doing its bit to help by opening its doors (albeit virtually) for FREE for the first time. With health, fitness and wellbeing content previously only available exclusively to its members, the UK's largest health club is today making its David Lloyd Clubs @home available free of charge to the nation.

In response to the recent news that nearly half of the UK population are exercising less during the current lockdown than during the first in early 2020* the aim is to provide everyone the opportunity to access fitness and wellbeing content.
With David Lloyd Clubs @home, users can access some 600+ classes ranging from yoga and Pilates classes, to high intensity interval training (HITT), post-natal workouts and mobility sessions for runners, all delivered by David Lloyd Clubs expert team.  A series of challenges across different genres enables users to progress and challenge themselves.

With loneliness a key symptom of the pandemic, providing access to a friendly virtual community is another key driver behind the launch, aiming to support users who may be struggling alone, those looking for an escape from working on the frontline or juggling the demands of home working and home schooling. Virtual coffee mornings hosted by social enterprise coffee traders Change Please have seen members develop their barista skills and whip up tasty brunch options, quiz nights have opened up some friendly rivalry, and future plans include a virtual book club and more live interactive workshops.  If you need encouragement, advice and motivation to get you and your family off the sofa and into the great outdoors,  DL Run Club group offers a warm welcome to runners of every level, and the David Lloyd Mile provides a friendly online community for families to share their daily outdoor exercise and offers younger ones the opportunity to win certificates for miles clocked up.

With reports suggesting the country's third lockdown has triggered an unprecedented mental health crisis** there's a dedicated wellness section too. Content includes meditation sessions, mindfulness programmes and beauty tutorials. There's even a series of hair tutorials – ideal for those who may have been victim to a lockdown haircut!
Special Videos for Children

For parents worried about their children's development, a series of skills videos have been exclusively created focusing on Agility Balance and Co-ordination (ABCs).  These skills are the basis of all movement and physical activity and the windows of opportunity when children can develop the ABC's more easily and quickly are typically between the ages of 5 -10/11.   Armed with no more than some balloons, tennis balls, a racket and a bucket, children can follow along the fun 10-minute sessions.  More family focused content within the app includes a daily story time session and cookery classes.

And for older people who may have struggled to leave the house to exercise during lockdown, the wide range of specially tailored fitness workouts and wellness content will help everyone keep fit and healthy until we can all confidently leave our homes again.

Glenn Earlam, CEO of David Lloyd Clubs says: "Our members have told us that David Lloyd Clubs @home has proved to be a lifeline over three lockdowns, keeping them fit, well and feeling connected.  We know the last year has taken its toll on the nation's physical and mental wellbeing and we wanted to be able to offer everyone the opportunity to benefit from the huge range of the content delivered by our friendly David Lloyd Clubs @home team.

"Exercise not only boosts physical health, but also has a huge impact on mental health. I genuinely hope we can encourage everyone to take a look and find something to help them. You don't need to be a regular exerciser or feel confident in the weights room, there's plenty of sessions that need no equipment and can be done in the house. But its far more than just fitness – we have meditation, mental wellbeing advice, hair and makeup tutorials, kids clubs and even quizzes and coffee mornings, so our @home App really is like a virtual David Lloyd Club experience in your own living room."


How to Get Access
Now available on Apple and Android – just search David Lloyd Clubs.  Find out more here: www.davidlloyd.co.uk/clubs/david-lloyd-clubs-at-home/

* https://news.sky.com/story/covid-19-40-of-us-exercising-less-during-third-lockdown-as-happiness-levels-decline-and-fear-of-falling-ill-rises-12201657

**https://www.telegraph.co.uk/news/2021/01/12/third-lockdown-has-triggered-unprecedented-crisis-mental-health/