More Parenting Articles
Even though the schools have just broken up for the Summer Holidays, we all know how quickly time passes us by and before you know it, the children will be walking back through those school gates, ready to start another school year.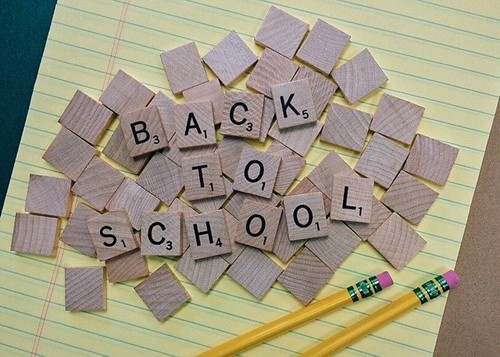 It's not all about the school uniform that is needed when going back to school though, take a look at some of the fab and funky products that are available to get the kids excited about the new school year and to make preparing for the return to school more fun.
Tonies®
Looking for ways to make back-to-school shopping a little more fun? Why not brighten up your supplies list with a Tonie or two? The start of a new term can be daunting, so quell those first-day jitters and get brains into gear with the power of audio…
What better way to prep kids for the start of school than settling down to listen to the adventures of everybody's favourite bookworm, Matilda. The perfect way to get late summer bedtimes back on track, Roald Dahl's most lovable story is read by Oscar-winning actress Kate Winslet and will delight and inspire school children everywhere. Can Matilda overcome her neglectful and grotesque parents and her tyrannical headmistress, Miss Trunchball? Young listeners will find themselves cheering on Matilda in this ultimate modern-day fairy tale.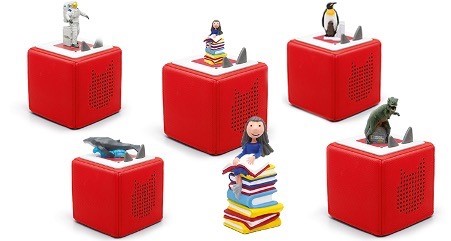 tonies® partnership with National Geographic Kids is poised to keep children engaged and ready to learn as they prepare to return to school this September. They'll embark on out-of-this-world adventures that will spark a lifetime of learning and a quest for knowledge. Budding palaeontologists can take a jaw-dropping journey back to the age of the dinosaurs, while mini astronauts will be wowed by mind-boggling facts about space. Curious adventurers will find out all there is to know about penguins and whales, as this fantastic educational collection ignites the explorer within every child.
The huggable screen-free Toniebox will unlock a whole new world of learning and fun to help children embrace the new school term. Listening to and sharing stories improves early language and literacy development, and with over 80 Tonies to choose from, kids can enjoy hours upon hours of content – all in a durable, travel-ready system made just for kids.
Get them off to a flying start with educational content set to thrill, and immerse them in the wonderful world of narrative with tonies® latest releases for children of all ages.

Blade & Rose
Blade & Rose, the award-winning British childrenswear brand – is delighted to announce the launch of matching eco waterproof rucksacks and eco lunchboxes, made sustainably from recycled polyester derived from plastic bottles, to help save the planet for future generations!
A welcome addition to Blade & Rose's popular clothing and accessories ranges, the new collection features three of the brand's bestselling prints for girls and boys – Frankie Lion, Maura Mouse and Highland Cow – and is sure to be a hit with little Blade & Rose fans, both for summer adventures and the exciting return to nursery and school!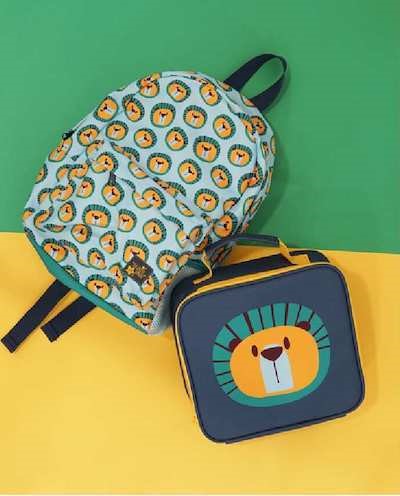 The fun and eye-catching eco rucksacks (£18) have been designed with comfort, durability and practicality in mind. Built to withstand year-round British weather, they have been made from waterproof recycled polyester, and feature adjustable padded shoulder straps to keep little ones comfy and happy all day long. The roomy rucksacks feature a main zipped compartment, a front zipped section for quick access items and a mesh side pocket for water bottles.
The matching eco lunchboxes (£14) bring lunchtime alive, even for the fussiest of eaters! Featuring a padded recycled polyester casing to help keep food cool and protect the contents, the zipped lunchboxes include a handy padded carry handle. Lunchbox mix-ups and losses can also be avoided with the thoughtful addition of a nametag on the reverse!
Edx Education
Edx Education has been designing and producing educational toys for schools around the world for over 25 years, so are the perfect resource for parents to help children aged 3-7 years get ahead at school, whilst enjoying the magic of play with the extensive learning through play ranges at www.shopedx.co.uk.
Here are some of Edx Education's top new launches for the start of school in September 2022!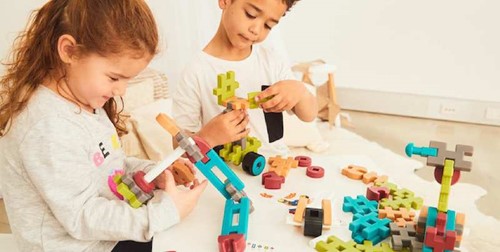 * Maths Cubes Learning Set
* Theme Park Construction Set
* Hundred Board Activity Set
* 2cm Linking Cubes Reflection Set
* Sorting Bears with Matching Bowls
* Monster Counters Activity Set
* FunPlay Collection - including FunPlay Construction Cubes, FunPlay Rainbow Pebbles, FunPlay Attribute Beads, FunPlay Wooden Patten Blocks, FunPlay Geo Pegs, FunPlay Number Rods and FunPlay Round Round Chips
* Early Maths 101 To Go Collection - including Number & Measurements (3-4 Years, 4-5 years and 5-6 years), Geometry & Problem Solving (3-4 Years, 4-5 years and 5-6 years)
Small Stuff
Small Stuff is the perfect destination for parents looking for children's hair accessories and bags that are fun, stylish and best of all, made using recycled materials!
Small Stuff work with talented designers and fabric suppliers to create affordable, recycled accessories that are long-lasting with a unique attention to detail. Small Stuff believe every accessory should be as beautiful as the person wearing it!
On a mission to reduce their environmental impact, the Small Stuff team work innovatively with fabric mills to design beautiful accessories from recycled materials. The range is made from 25% or more recycled materials, with a commitment to ensure that 100% of the range will be made using recycled materials by 2024.
Perfect for the start of the new term and inspired by a love for school, Small Stuff have launched a delightful new heart print to their range. The Back to School collection also includes a super cute purse belt bag, to keep all your child's essentials close to hand during the school day!
Small Stuff's fun and fashionable Large Bow Headbands (£5) – made from 100% recycled polyester fabric, with a recycled plastic inner headband – are excellent value, without any compromise on style or integrity. Available in a choice of white heart on navy, red or green fabric, there's a design to complement every school outfit.
Another fantastic option from the range is the Heart Print Headband Set (£4). Ideal for keeping hair at bay during the school day, the 2-pack set includes a heart print headband and plain headband, in a choice of navy, red or green fabric. The gorgeous grosgrain ribbon fabric is made from 100% recycled bottles, and the inner headband made from 100% recycled plastic.
For parents wanting to keep their child's hair up without pulling or damaging the hair, the fabric Heart Print Scrunchie Set (£3.50) offers a wonderful fashion-conscious solution. Featuring a sweet bow design, the 2-pack set comes in a choice of navy, red or green 100% recycled polyester fabric.